I hope all of you had a great Thanksgiving. :) Mine was good. Except for the whole "working the next day at an ungodly hour" part. The joys of working in retail, right?
Mu aunt has recently been diagnosed with diabetes, so I sought out a lower-sugar dessert that everyone would enjoy. Having heard about agave nectar on a few different blogs - how it's lower on the glycemic index than even an apple - the quest began for a recipe using it. It was surprisingly harder than I had expected. Monday turned up results, though. Over at
Baking Bites
. (I really need to write a post-it to order myself one of the cookbooks)
The cake was SUPER easy to bring together, and I was happy to discover that agave nectar moves faster in the pouring process than honey does. The cake is very fudgey, but not as chocolatey as I had hoped. The frosting isn't very sugar-free, but I did use far less confectioners' sugar than the recipe called for. Everyone else loved it, though. Now that I think about it, I don't recall ever seeing it again after I went to bed so early. Hmm... :)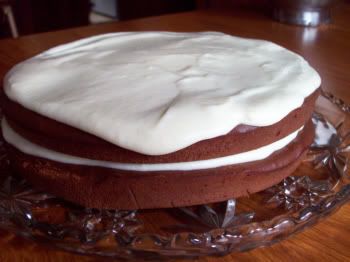 Ingredients:
2¼ cups all purpose flour
2/3 cup cocoa powder
1 tsp. salt
1 tsp. baking soda
½ cup butter, room temperature
½ cup brown sugar
3 large eggs
1 cup agave nectar
1 tsp. vanilla
3/4 cup sour cream
¼ cup milk
Directions:
Preheat oven to 350F. Grease two 9-inch round pans and line them with greased parchment paper.
In a medium bowl, sift together flour, cocoa powder, salt and baking soda.
In a large bowl, cream together butter and brown sugar until light. Beat in eggs, one at a time, followed by agave nectar and vanilla extract.
Stir in 1/3 of the flour mixture, followed by the sour cream. Add another 1/3 of the flour mixture, then the milk, before stirring in the remaining flour mixture. Mix only until just combined. Divide evenly into prepared pans.
Bake at 350F for 22-28 minutes, or until a toothpick comes out dry or with some moist crumbs attached. Do not overbake. Turn cakes out onto wire cooling racks, peel off the parchment paper, and let cool completely.
Agave Cream Cheese Frosting
Ingredients:
8 oz. package cream cheese, room temperature
½ cup butter, room temperature
3 tbsp honey
¼ cup milk
2-3 cups confectioners' sugar
Combine all ingredients in a large bowl and beat at high speed until smooth, gradually adding the confectioners' sugar until a thick and spreadable consistency is reached. More milk can be added to thin the icing, if necessary.