Alright, everyone. Try not to fall over - I'm actually updating. ;)
It feels as though I'm fighting an uphill battle in the fight against the lazy. I'm baking every weekend, but the lazy monster keeps coming up with paltry excuses from updating. Or even photographing. "It's rainy; no good light." "It's near-dark by the time I get home from work; no good light." Even worse, when the lazy monster gets in cahoots with the self-esteem gargoyle. "Oh, who's gonna care about yet another brownie recipe?"
But I'm doing good tonight. Baked yesterday, photographed a little over an hour ago, and here I am. (That and I told myself I couldn't read anymore of the book until I post this. Motivation, you come from the strangest places.)
So! I found this over at
Recipe Girl
and instantly fell in love. Pumpkin? In blissful union with snickerdoodles? Oh, my! You know it's gotta be something good if I'm making cookies before Christmas. ;)
And truly? These make me so ridiculously happy, it's not even funny. They're that perfect couple that, even though they're perfect, you aren't annoyed by them. You revel in their perfectness. You don't even feel that twinge of jealousy when they finish each other's sentences and get lovey-dovey.
(That last paragraph, upon re-reading, did make me raise my eyebrow in perplexedness. Have I gone off the deep end for good this time??) ;)
Anyways, divine. Everyone should make these. :)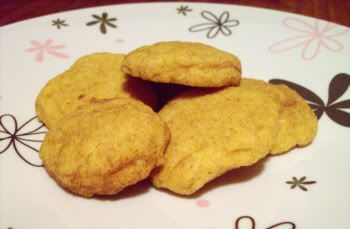 Ingredients:
1 cup butter, at room temperature
1½ cups granulated sugar
3/4 cup pure pumpkin puree
1 large egg
2 tsp. vanilla extract
3-3/4 cups all-purpose flour
1½ tsp. baking powder
½ tsp. salt
½ tsp. cinnamon
½ cup granulated sugar
1 tsp. cinnamon
½ tsp. ginger
½ tsp. allspice
Directions:
Cream butter with an electric mixer until fluffy. Add sugar and pumpkin puree, and beat well. Mix in egg and vanilla.
In a medium bowl, whisk together flour, baking powder, salt, and ground cinnamon. Beat flour mixture into liquid mixture a little at a time until incorporated.
Cover dough with plastic and chill for at least an hour, or until dough becomes slightly firm.
Preheat oven to 350F. Line baking sheets with parchment paper.
Mix sugar, cinnamon, ginger, and allspice in a small bowl.
Using a medium cookie scoop (1½ Tbsp.) or a large spoon, scoop out dough and roll into balls. Roll dough through the sugar/spice mix. Place 2 inches apart on the prepared baking sheets. Flatten slightly.
Bake at 350F for 10-14 minutes, or until slightly firm to the touch. Let cool on baking sheets for 5 minutes before moving them to a wire rack to cool completely.
Makes about 3-5 dozen (depending on the size, of course)