This past Tuesday was round one of the annual Christmas Baking Extravaganza. I've learned over the years that it's best to space it out a bit. Do the mailables first, then locals, then Christmas desserts. It's working, for the most part.
Three out of the five mailables were all things that I've done before. Which definitely made it a bit easier. The biggest problem? Four things needed an 8" pan. Of which I own two. That was fun. :P (Solved by doubling one recipe and then stowing the first dish in the fridge to cool faster)
This one is a slightly altered recipe from one previous this year. Amelia's my twin, and when faced with uncertainty on a baked good, I suggested something minty. Thus, minty brownies.
The batter both tastes and smells delicious. Earlier in the month, I found that Nestle put out some semi-sweet chocolate and mint chips - not swirled, though. But they're pretty enough in the dark chocolate batter. I had the tiniest smidgen of one and really enjoyed the flavor, and promises were made to my dad that more would be made, in order to keep him away from these. (That sentence seems awfully disjointed.)
The picture was a last minute one, right before it was put into the box. And that is my 'tiny' (6') tree in the background. :)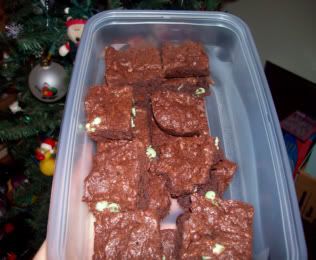 Ingredients:
½ cup butter
4 oz. unsweetened chocolate, chopped
1 cup sugar
2 eggs
1 tsp. peppermint extract
3/4 cup flour
1-1½ cups mint and chocolate chips
Directions:
Preheat oven to 325F. Grease an 8-inch baking dish.
Melt butter and chocolate. Gradually beat into sugar. Add eggs and peppermint. Gradually add flour, beating until well combined. Stir in chips. Spread in prepared pan.
Bake at 325F for 25-30 minutes, or until a toothpick inserted near center comes out clean. Let cool on a wire rack before cutting into bars. Makes about 16.