I swear, I don't fall off the face of the earth every other week or so. Sometimes I wish I could for brief moments of time, but that's a whole 'nother blog altogether. ;)
Having an 'extra' day off this week due to the paid holiday of Labour Day, I decided to make something this past Wednesday. And for some very strange reason, cookies kept coming to mind. (Something REALLY must be wrong, huh? LOL) Speaking of work, this upcoming week, Tasha and I were 'volunteered' to help out in another store. On a good note, an extra hour of pay each day since the store's an hour away. On a bad note, it means I'm back on the salesfloor, dealing with customers. Oy.
Anyways, happier things. Nutella ravioli is definitely a happy. Another recipe by the fabulous
Peabody
. Of course, mine didn't come out nearly as pretty. Or round. Somewhere in my semi-lost brain, spacing just didn't happen. So when they came out of the oven, it was pretty much a cookie sheet of sugar cookie dough. Oops. Yay for spatulas, right?
Oh, and the flavor? So yummy. I want to say there were somewhere between 24 and 30 cookies? There are six left. My dad's been sneaking them, I think, in an attempt to make the brownies last longer. ;)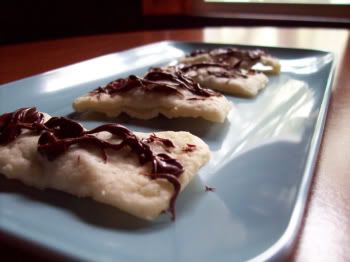 Ingredients:
18 oz. sugar cookie dough (store-bought or home-made)
½ cup Nutella
3 Tbsp. semi-sweet chocolate chips
3 Tbsp. white chocolate chips
Directions:
Preheat oven to 350F
Roll out cookie dough to about a ¼-inch thickness.
Using a cookie cutter or a glass dipped in flour, cut out rounds. Place about a ½ teaspoon of Nutella into the center of each round. Fold rounds over to create half moon shapes, gently sealing edges. Place on an ungreased cookie sheet.
Bake at 350F for 9-10 minutes. Remove to wire racks and cool completely.
Once cooled, melt chocolate chips in microwave for about 1 minute. Using a fork, drizzle over cookies. Repeat with the white chocolate chips.