Whew! It seems like it's been ages, hasn't it?
Well, first, vacation was WONDERFUL. Somehow squeezed in seeing everyone that I wanted to see, as well as nearly 12 hours of driving on the way to Oregon and back to the Bay Area. Not only was it great seeing friends again, but also the food that I can't get out here! LOL I really did pack a box and mailed it to myself, full of stuff that I can't readily get over here. (Why, yes, that did include vanilla from the Ferry Marketplace Building in SF lol)
In other awesome news, last week Southwest Airlines had a big 72-hour sale, with one-way flights as low as $25. Naturally I couldn't pass that up, so come January, as a little birthday present to myself, I'll be heading out there for a few days. And Amelia mentioned those wonderful words of "road trip" and "Disneyland." Quickest way to make this little girl smile. :)
Halloween was fun. My friend Leslie has been having a Halloween party with her daughter for quite some time, and I was able to go this year. Of course I volunteered baked goods, and cookies wound up being the choice. The regular chocolate chip stand-by and this one, which is based off a recipe I used a few years back. (So out of it tonight; I do apologize lol)
I did a half batch only because it was Halloween morning that I was making these and time was limited. The recipe's quite easy, mostly one bowl (I got lazy and just mixed the flour and stuff in the actual measuring cup *shrug*. The dough is a bit on the sticky side, and very yummy, so you might want to chew some gum while making this, just to resist the dough-eating. ;)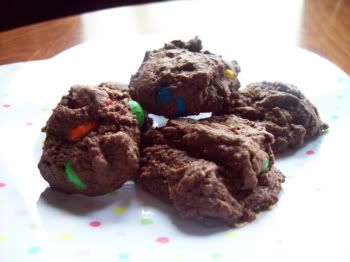 Ingredients:
1-1/8 cups flour
¼ cup + 1 Tbsp. cocoa
½ tsp. baking soda
1/8 tsp. salt
½ butter, softened
1/3 cup sugar
¼ cup + 1 Tbsp. brown sugar
½ tsp. vanilla
1 egg
6 oz. M&M's
Directions:
Preheat oven to 350F. Line baking sheets with parchment paper.
Beat butter, sugar, brown sugar, and vanilla until light and fluffy. Add egg. Sift together flour, cocoa, baking soda, and salt; gradually add to butter mixture. Stir in M&M's. Place teaspoonful-sized dough at least 1-inch apart on prepared sheets.
Bake at 350F for 9-11 minutes. Let cool on sheets for two minutes before removing to wire rack to cool completely.
Makes about 3 dozen.