See, this is what happens when it's a snow day - Kristen actually posts in the blog. ;)
There's about 20 inches of the white stuff out there right now. I think snow days were much more fun as a kid. As an adult, you find yourself thinking about how much more work there'll be to do tomorrow. But as a kid, all that mattered was getting out there, building a snow slide, and staying out there for as long as your parents would let you.
Now I often refer to snow as that "dirty four-letter 's' word."
Sure, it's pretty and all - when you don't have to go out in it. We saw one plow come through - probably around 4am. This afternoon, an ambulance got stuck at the top of the street. A second one was called in, and had to back down the hill in order to get the woman to the hospital. Because one plow doing ONE trip up the street just doesn't cut it. I will get ranty if I continue on the subject of my city's obvious bias towards the downtown area and the section where the mayor lives. Hmph.
Alright, onto the scones! These are my very first ever homemade scones. My friend Steve isn't a huge fan of sweets, but is a big cheese fan. So, I offered. And it was... an experience. My dad played sous chef and cut more butter for me, and turned the water on when my hands were a big floury-buttery mess. I had visions of how Paula Deen must feel on a regular basis. ;)
Overall, for a first time, because of course I tried one, not bad. Next time? More cheese. And some cheese on the top of all of them. I found the basic recipe on AllRecipes, but altered it a bit as I went. So the recipe below is what I wound up doing.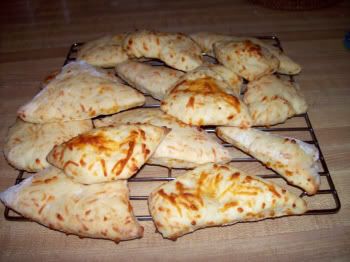 Ingredients:
2 cups self-rising flour
3 Tbsp. butter, cold, cut into small pieces
Pinch of salt
½ cup shredded cheese
1 cup milk
Directions:
Preheat oven to 425F. Line a cookie sheet with parchment paper.
Sift flour and salt. Rub butter into flour lightly, until mixture resembles coarse bread crumbs. Stir in cheese. Make a well in the center, and pour in milk, reserving 1 tablespoon. Mix until just combined.
Knead lightly and briefly on a floured surface. Press to make a 1-inch thick round. Cut into wedges (or whatever shape happens to be easiest, in my case). Brush lightly with reserved milk. Sprinkle a bit of cheese onto the top.
Bake at 425F for 10-20 minutes, or until light brown. Let cool briefly on wire rack. Serve warm or at room-temperature.