Yay! I survived! ;)
I hope everyone reading had a fantabulous holiday, despite any mad rushing around or last-minute baking.
We had a relatively quiet Christmas. My aunt and uncle came over. Food was delicious, loud conversations ensued.
National Lampoon's Christmas Vacation
was on all day on AMC. No matter how many times I see it, when the squirrel jumps out, I'm busting up with laughter.
The present-opening part held two good surprises for me. I've spoken in the past of wanting to get one of those vhs-to-dvd recorders, to preserve all the home movies and dance recitals and such; Dave got me one, which was a really, really big surprise. Secondly, between four gift cards, I've got about a hundred dollars worth to Barnes & Noble. :D
It's the end of the year, which means my annual 'end of the year' book.
The Mists of Avalon
, by Marion Zimmer Bradley, is my FAVORITE book. I've lost count how many times I've read it over the past ten years. In order to, well, make my own tradition, I decided to read it but once a year. I'm quite confident that I'll finish it before midnight on the 31st; currently on page 363, out of 876. Slightly worried, yes, but I'm still posting this before it's a week old - woohoo! ;)
Anyways, I first made these about a year and a half ago? I wanted something simple and chocolatey. And who doesn't love cupcakes? :)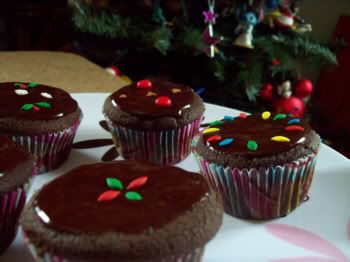 (Sorry, Mel, the duck didn't fully make this picture. But Stitch did!) ;)
Ingredients:
½ cup boiling water
6 Tbsp. unsweetened cocoa powder
¼ cup milk
½ tsp. vanilla extract
1 cup flour
½ + 1/8 tsp. baking soda
¼ tsp. salt
½ cup butter, softened
10 Tbsp. brown sugar
6 Tbsp. sugar
2 eggs
Directions:
In a bowl, whisk boiling water into cocoa until smooth. Add in milk and vanilla; set aside.
Preheat oven to 350F. Line 12 muffin cups with paper liners.
In a small bowl, sift flour, baking soda, and salt; set aside.
In a mixing bowl, beat together butter and sugars until light and fluffy. Add eggs, one at a time, beating well after each addition. Add flour mixture in batches, alternating with cocoa mixture; beginning and ending with the flour. Fill liners about halfway full.
Bake at 350F for 18-20 minutes. Cool on wire rack.
Chocolate Ganache:
½ cup heavy cream
8 oz. semi-sweet chocolate chunks
2 Tbsp. light corn syrup
Heat the cream until boiling, then pour over chocolate, stirring to melt, adding the corn syrup. Dip each cupcake into ganache upside down to get a good coating on it.