Yes, in my never-ending quest of a breakfast that keeps me full until lunchtime... muffins again. I found these on the Hershey's website, but I altered them a bit, since I'm not a big fan of chocolate chips in my muffins. They don't seem quite so... muffiny then. Also, less molasses, too, since I didn't have a whole cup. Oops.
In the last third of putting these together, I discovered that I only had one egg left. Which meant a walk over to Whole Foods (because, come on, cage-free organic eggs for $1.99? You can't go wrong!), while hoping what was in the bowl wouldn't go all crazy while I was gone. The recipe is different, I thought, what with the order in which ingredients go into the bowl. Tried 'em last night, shortly out of the oven, and was disappointed. Tried again this morning, for breakfast, and they improved. Thankfully. :)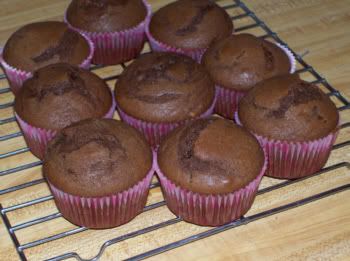 Ingredients:
2½ cups flour
¼ cup cocoa
½ tsp. salt
2 tsp. baking powder
½ tsp. baking soda
3/4 cup hot water
½ cup molasses
½ cup brown sugar
1 tsp. ginger
1 tsp. cinnamon
½ tsp. nutmeg
½ cup butter, melted
2 eggs, lightly beaten
Directions:
Preheat oven to 350F. Line 12 muffin cups with paper liners.
Combine flour, cocoa, salt, baking powder, and baking soda in a medium bowl; set aside.
Stir together hot water, molasses, brown sugar, ginger, cinnamon, nutmeg, butter, and eggs. Add dry ingredients, mixing just until moistened. Fill muffin cups 2/3 full.
Bake at 350F for 20-25 minutes, or until a toothpick inserted near center comes out clean. Cool in pan for 10 minutes before removing to wire rack.