I went to bed last night planning making some kind of "new" and "fancier than normal" cookie. Woke up this morning planning on making Dorie Greenspan's Buttery Jam Cookies. And then I came across a peanut butter cookie recipe.
I have an on-again/off-again relationship with peanut butter. Some days, I can easily eat it straight out of the jar. Other days, just the scent is enough to turn me away. Right now is obviously a good time in the pb affair.
I found these in an old issue of
Everyday Food
, and they sounded yummy and looked pretty (much more so than my picture!). Plus Dave loves peanut butter, so I know they'll go over well and I won't eat the whole batch myself!
They're VERY peanut butter-y which is quite okay right now. I used Nestle's milk chocolate/peanut butter swirled morsels instead of the plain chocolate. Gonna go grab another one now, I think. :)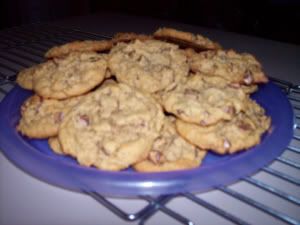 Ingredients:
1 cup smooth peanut butter
3/4 cup brown sugar
1 large egg
½ tsp vanilla extract
½ tsp baking soda
¼ tsp salt
1 cup chocolate chips
Directions:
Preheat oven to 350F. Line baking sheet with parchment paper.
In a large bowl, beat together all ingredients until smooth, adding chocolate chips at the end of mixing. Drop by tablespoonfuls onto prepared baking sheet and flatten slightly.
Bake at 350F for about 10-13 minutes, until golden brown at the edges. Cool on pan before removing to wire rack to cool completely.
Makes about 2 dozen.