I admit, it took me a while to come up with these. It wasn't until I went digging through the "pile o' morsels" that this clicked into my head. I'm not the biggest fan of Hershey's Cinnamon Chips, at least pre-baked, but they worked out really well in these. In fact, the flavor seems like it should be in something bread-y or muffin-y. Definitely not in bar form. Which is what I think is so great about these. Oh, and they're "guinea pig approved", too. I should make them a logo or something. :)
Anyways, I like these. Much better than the ginger blondies I previously made. These can be just a snack, or heated up and topped with ice cream. Ooh, a cinnamon ice cream would go perfectly! *covets* ;)
These are also for Myriam's
Browniebabe of the Month
event. :)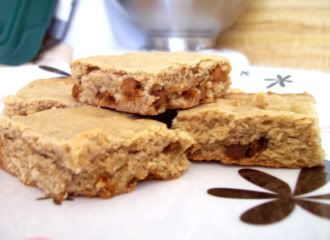 Ingredients:
1 cup plus 2 Tbsp. flour
1 tsp. baking powder
¼ tsp. salt
1 tsp. cinnamon (add more, if desired)
3/4 cup brown sugar
1/3 cup butter, softened
½ tsp. vanilla
1 large egg
3 to 5 oz. Hershey's Cinnamon Chips
Directions:
Preheat oven to 350F. Grease a 9-inch square baking pan.
Combine flour, baking powder, salt, and cinnamon; set aside.
Beat brown sugar, butter, and vanilla until creamy. Beat in egg. Gradually add flour mixture. Stir in cinnamon chips. Spread into prepared pan.
Bake at 350F for 20-25 minutes. Cool completely in pan on wire rack. Cut into bars. Makes about 16 bars.