Remember the good ol' days? When it was rolling towards September and you had both that mixture of sadness and excitement over the quickly-approaching first day back to school? (Alright, it's September back home. Out here, it's next week, I think.) I was one of those kids that actually enjoyed school, so it was definitely a mix of feelings. On one hand, I'd be going into (whatever) grade, and somehow I always got the teacher that I wanted, all the years of elementary school. But at the same time, when I think back on my childhood summers, it's all very vivid greens and blues and flowers. Sleeping in, playing house/restaurant/school/whatever with April or Erin, swimming in the pool, etc. Sometimes I really miss my childhood, and I do hope that when I have kids, they wind up with the same fond memories.
I digress. Of course. LOL
Really, those words and the recipe are connected, I swear. I think it's because the flavors of the bars remind me slightly of a peanut butter and jelly sandwich, even when there's no peanut butter. It's just a very comforting taste, and it works out well that's so super-easy to make. And, as I pointed out, there are oats in it, so therefore, there's healthiness. :)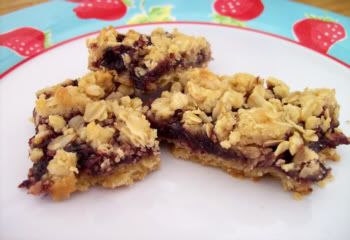 Ingredients:
½ cup butter, softened
1/3 cup brown sugar
1 cup unbleached flour
¼ tsp baking powder
1/8 tsp. salt
1 cup old-fashioned oats (not the 'quick-make' version)
1 cup jam (any flavor)
Directions:
Preheat oven to 350F. Grease an 8x8 baking pan.
Beat butter, brown sugar, flour, baking powder, and salt until smooth and creamy. Add in oats.
Press 2 cups of the mixture into the bottom of the pan. Spread the jam over this layer (close to edges, but not touching edge of pan as the sugar will burn). Sprinkle the remaining oatmeal mixture over the top and press lightly.
Bake at 350F for 22-25 minutes. Allow to cool before cutting into bars. Makes about 16 bars (depending on the size you cut them. I cut them small, thus making more, just because they seem better when bite-sized) :)