This past week, we had our first little taste of autumn. Waking up in the morning, it was in the 40s. The high temperature was in the low 60s. There was just this crispness to the air that brought fall to mind.
I have mixed feelings on fall. For one, it means colder winter weather is coming. But at the same time, it evokes memories of shusheling through the fallen leaves, and the taste of pumpkin and apple, and just generally home-like scents. That is the best part of autumn for me. :)
When I saw the recipe over at
Culinary Concoctions by Peabody
, I don't know what made me smile more: the picture of the food or the pictures of her Cocker Spaniel and Bunny. Seriously, click now, read and smile, then come back. Go ahead, I'll wait.
Back? See, aren't they adorable?
Anyways, after seeing those bars, I bookmarked it instantly. Then with the aforementioned weather, I bought some pumpkin in preparation for making this.
And it really does taste like autumn should taste. I didn't quite have the amount of cranberries, so I just tossed in what was left in my bag of Craisins. It worked out, though. :)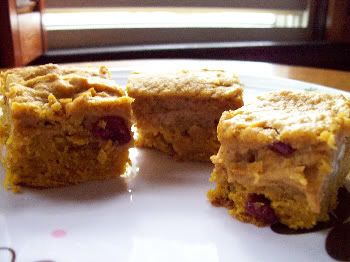 Ingredients:
2 cups flour
1 tsp. baking powder
½ tsp. baking soda
1 tsp. cinnamon
¼ tsp. allspice
¼ tsp. ginger
¼ tsp. salt
1 cup butter, softened
1 cup sugar
1 egg
1 tsp. vanilla
1 cup pumpkin puree
1½ cups dried cranberries
Directions:
Preheat oven to 375F. Grease a 9x9-inch baking pan.
Sift together flour, baking powder, baking soda, spices, and salt; set aside.
Cream butter and sugar, until light and fluffy. Add egg and vanilla. Stir in pumpkin. Gradually add flour mixture, beating just until combined. Stir in cranberries. Spread into prepared pan.
Bake at 375F for 30-35 minutes, or until a toothpick inserted near center comes out clean. Let cool completely before cutting into bars. Makes about 16 bars.