For some unknown reason, I had the whole weekend off from work. The next paycheck won't be so great without that time-and-a-half, but I think it was well worth the extra sleep-time and less stress and insanity.
What have I done this weekend? Umm.. baked. Read a book (
The Guernsey Literary and Potato Peel Pie Society
); you should read it, it was very good.) Dave and I went to an indoor miniature golf place (I lost, but that's nothing new.) Did some laundry in there, too. That's about it. And now I'm ready for bed and it isn't even 8pm yet. Yikes.
This recipe wasn't what I had in mind on Thursday afternoon, when I usually start thinking about what I'll be making on Saturday. But it worked. It's from the
Hershey
website, and I used the exact recipe, minus the nuts and minus the frosting. I'm not a brownies-with-frosting kind of girl. *shrug* Nothing against those who are, it's just not my thing.
Anyways, the recipe comes together super easy and the batter is delicious. I could have easily overdosed on it. And the after-baking taste is just as good. They've been out of the oven and cooled for, oh, maybe 30 hours, and there's not even half a pan left. My dad insisted that the dog must be sneaking in there when no one's looking. :)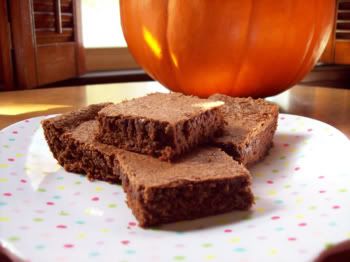 Ingredients:
1 cup flour
3/4 cup cocoa
¼ tsp. baking powder
½ tsp. salt
1 cup butter, softened
3 oz. cream cheese, softened
2 cups sugar
3 eggs
1 tsp. vanilla
Directions:
Preheat oven to 325F. Grease a 13x9-inch baking pan.
Combine flour, cocoa, baking powder, and salt; set aside.
Beat butter, cream cheese and sugar in large bowl until light and fluffy. Beat in eggs and vanilla. Gradually add flour mixture to butter mixture until well blended. Spread batter into prepared pan.
Bake at 325F for 35-40 minutes, or just until brownies begin to pull away from sides of pan. Cool completely in pan on wire rack. Cut into bars. Makes about 36 brownies.