That's a mouthful, isn't it?
Yesterday's baking did not go as planned. The can of pumpkin mysteriously disappeared, with no note whatsoever. You'd think if it was kidnapped, the fiends would leave a ransom note, right? And if he ran away, didn't I raise him better than to leave without a note? Hmph. Watch, he'll come back just after Christmas.
Anyways, thankfully I discovered that before putting together the dry ingredients for my originally planned recipe. I do so hate being wasteful. Thus began my search for something else, when my eyes fell upon Dave's half-full bag of peanut butter M&M's. (He had another full bag still, so it wasn't considered blasphemy for baking with them. He's quite the fan) Surprisingly, my brain went back to a post that I saw on
Cooking Madness
last week. Voila! :)
I think my only complaint with the recipe is how sticky the dough is. I wound up greasing my hands with Pam spray just to spread the dough into the pan. Other than that, no complaints. And holy moly, Dave's eating something that I made. Lately it's been hit-or-miss with him, so I'm happy. I like the combination of the regular cookie dough and the chocolate, and the general cheeriness that the M&M's give it. I'm easily amused, can you tell? (And also braindead for work today lol)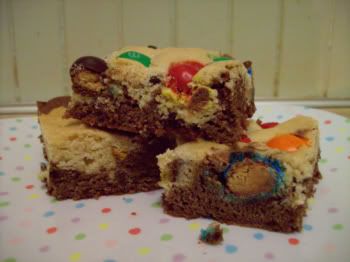 Ingredients:
2½ cups all-purpose flour, divided
2½ tsp. baking powder
3/4 tsp. salt
12 Tbsp. unsalted butter, softened
1 cup granulated sugar
1 cup firmly packed brown sugar
3 eggs
1 tsp. vanilla
1/3 cup unsweetened cocoa powder
1 Tbsp. butter, melted
2/3 cup semi-sweet chocolate chips
½ cup Peanut Butter M&M's
Directions:
Preheat oven to 350F. Grease a 13x9-inch dish (or line with foil).
Whisk together 2¼ cups flour, baking powder, and salt; set aside.
Cream butter and sugars, until light and fluffy. Add eggs and vanilla. Gradually add flour mixture. Divide dough in half.
Blend cocoa and melted butter in a small bowl, then stir into half the dough. Spread cocoa dough onto bottom of pan.
For remainder of dough, stir in ¼ cup flour and ½ cup chocolate chips; spread over cocoa dough. Sprinkle M&M's over the top.
Bake at 350F for 32-38 minutes, or until edges begin to pull away from the sides. Let cool on wire rack before cutting into bars. Makes 24-32 bars (depending on how they're cut)