Alright. Slightly more relaxed tonight than I was when I posted yesterday. This is a good thing. My "to-do" post-it notes are still floating about the computer, as well as two "to buy" post-its as well. I'm making progress. Seriously. I do need to remember to pay the credit card bill before we leave, though. LOL Another post-it. :)
So my second birthday treat of this week is for Tasha. I think I've mentioned on here before the girl that didn't like cheesecake? Yeah, that's Tasha. But don't worry, I brought her over to the yum side after all. Thank you Nutella and lemon cheesecake bars. ;) Her birthday isn't until the 9th, but since tomorrow's my last day of work before leaving, she gets hers a bit early. I'm sure there won't be any complaints about that.
Anyways, her request was super-duper simple: brownies with walnuts. I didn't have to do search for any recipes, just went with the stand-by small-batch brownie recipe and we were good to go.
I did manage to get a picture of these, since I've been lazy tonight. Still in the baking dish, still not cut, I really like this picture. And not bad for such horrible lighting. (Blue skies, sunshine? I miss you. Please come back.)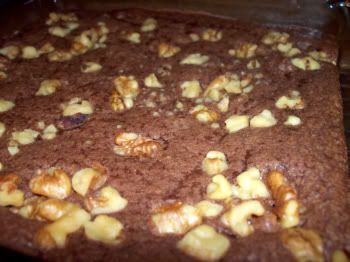 Ingredients:
1 cup flour
½ cup cocoa power
3/4 tsp. baking powder
¼ tsp. salt
1½ cups sugar
3/4 cups butter, melted
2 tsp. vanilla
3 eggs
1 cup walnuts
Directions:
Preheat oven to 350F. Grease a 9-inch baking pan.
Sift together flour, cocoa, baking powder, and salt; set aside.
Beat butter and sugar until smooth, then add vanilla. Add eggs, one at a time, beating until incorporated. Gradually add dry ingredients. Stir in most of the walnut pieces. Spread in prepared pan. Sprinkle with remainder of walnuts.
Bake at 350F for 25-30 minutes, or until a toothpick inserted near center comes out clean. Let cool completely before cutting into brownies.