I have been so horrendously lazy this week when it comes to posting. I made these on Saturday. And here we are, Thursday evening. It's just every time that I tried posting, something came up. Of course, sometimes that something was Jeopardy or talking to a friend, but you get what I mean.
So! These have been on the "to make" list for nearly two years. Yep, posted on
Baking Bites
just over two years ago. Oops. The fact that they're cookies is probably part of the reason why they've been on there so long, I'm sure. But they sounded really good on Saturday, a counterpart to the muffins that, well, failed miserably. (Honestly, it was like a chemistry experiment gone horribly wrong. I don't know what happened - hey, kinda like in chemistry!)
I didn't like these on the first day, but my dad loved 'em. I found them to be much better, softer and more flavorful, on day two. And they've been munched on at work this week, too. So, I'd say a success overall. :)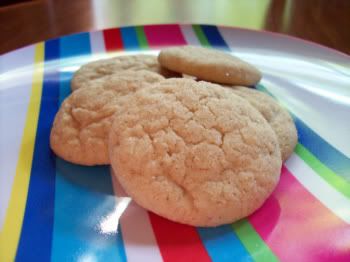 Ingredients:
1 cup sugar
1 tsp. ground cinnamon
½ tsp. ground ginger
½ tsp. ground cardamom
¼ tsp. ground allspice
½ cup butter, soft
1 large egg
3/4 tsp. vanilla extract
1-1/3 cups all purpose flour
1/8 tsp salt
1 tsp. cream of tartar
½ tsp. baking soda
Directions:
Preheat oven to 350F. Line a baking sheet with parchment paper.
In a large bowl, combine sugar and spices; remove half a cup of this mixture and place in a medium-sized, shallow dish or bowl.
Add butter to bowl and cream with sugar mixture until fluffy. Beat in egg and vanilla extract.
In a medium bowl, whisk together flour, salt, cream of tartar, and baking soda. Gradually add to sugar mixture and stir until fully incorporated.
Shape dough into 1 inch balls and roll in reserved sugar-spice mixture. Place on baking sheet, leaving 2 inches between balls to allow for spreading.
Bake at 350F for about 12 minutes, until edges are firm to the touch, but not quite browned. Cool for 3-5 minutes on the baking sheet, then transfer cookies to a wire rack to cool completely.
Makes about two dozen cookies.