I think sometimes it's very obvious what fruits are on sale at the grocery store. :) This week it was both blueberries and strawberries. We'll see what gets made next.
For some reason, I'm having a hard time coming up with what to write on here tonight. I was lazy last night and didn't post. And now it's Monday night, Jeopardy's on, and I'm just kinda eh on everything. Post-vacation downtime? I don't know. And I still owe somewhat of a post on that. Yikes.
Since I'm not coming up with anything remotely entertaining, I'll just talk about the recipe. Originally found at
Culinary in the Desert
, I altered it a bit for those unfortunate folk who do not like coconut. (Those weirdos lol) The addition of the flour in the crust was different, but I don't feel that it made too much difference compared to a regular graham cracker crust.
Reviews are mixed on this one. I really liked it, and even Dave and my dad ate it. Gina did not, Leslie has never had blueberries before and didn't want to try. Marcos took home the three that didn't get eaten. *shrug* I liked 'em quite well, so that counts the most, since I am the girl with the blog. ;)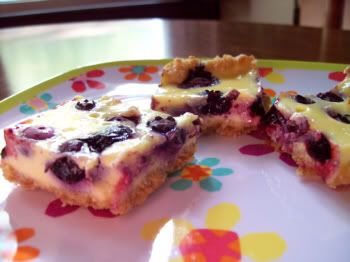 Ingredients:
4 Tbsp. butter, softened
1/3 cup graham cracker crumbs
¼ cup flour
1/3 cup sugar
6 oz. cream cheese, softened
1/3 cup sugar
2 eggs
½ tsp. vanilla
1 cup blueberries
Directions:
Preheat oven to 350F. Grease a 9-inch baking pan.
Combine graham cracker crumbs, flour, and sugar; cut in butter using pastry blender. Press onto bottom of prepared pan. Bake for 8-10 minutes, or until light golden brown.
Beat cream cheese and sugar until smooth. Add eggs, one at a time, then vanilla. Pour batter over hot crust. Scatter blueberries on top.
Bake at 350F for 18-22 minutes, or until center is nearly set. Let cool on wire rack before refrigerating. Makes about 16 bars.