I was so proud of myself on Saturday. That's when I baked these and I even took the picture the very same day. Shocking, I know. Yet here it is, Wednesday, and I'm finally getting my butt into gear and posting. Oops. And I don't think there's even a valid excuse this time, outside of plain laziness.
Things have been going very well in the meat-free department. There are definitely some challenges at times, but overall, I'm feeling positive. And I'm feeling BETTER in general, too. Which is the biggest thing, as far as I'm concerned.
This is another recipe from the
Vegetarian Times
website, which I've had bookmarked for quite some time. Only did a few alterations - adding some nutmeg and allspice - and swapping out the plain jam for the Queen's Blend jam from Ikea. Raspberry and blueberry. It's the best. Get thee to an Ikea to buy some. (The Daim chocolates are yum, too) :)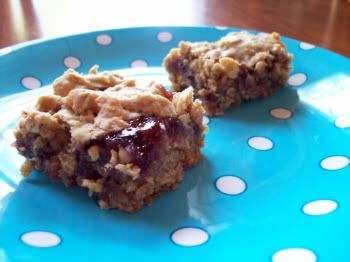 Ingredients:
1¼ cups all-purpose flour
1 tsp. ground cinnamon
½ tsp. nutmeg
½ tsp. allspice
½ tsp. baking soda
¼ tsp. salt
1 cup light brown sugar
½ cup unsalted butter, softened
1 large egg
1 tsp. vanilla extract
½ tsp. almond extract
2 cups old-fashioned rolled oats, divided
1 cup raspberry jam
Directions:
Preheat oven to 350F. Coat 9-inch-square baking dish with cooking spray.
Sift together flour, cinnamon, baking soda, and salt in large bowl.
Cream sugar and butter until light and fluffy. Beat in egg and extracts until smooth. Gradually add flour mixture to butter mixture; mix until combined. Stir in 1-3/4 cups oats.
Spread 2/3 of batter on bottom of prepared baking dish. Spread raspberry jam over the batter with back of spoon. Add remaining 1/4 cup oats to remaining batter. Crumble over top of raspberry jam.
Bake at 350F for 30 minutes, or until golden. Cool completely on wire rack before cutting into bars.