On Monday night, I said - quite randomly - to Dave, "I feel like making something with peanut butter."
He looked at me and asked, "Who are you?"
I'm sure I've mentioned on here before, my love/hate relationship with peanut butter. Some days, we're friends, I'll go straight for the jar. Other days, just the scent is enough to turn my stomach. So I don't blame him for asking me that question. Besides, it was funny.
I found these on the Hershey website, in search of something peanut butter-y yet simple. It had been a long day, and while I wanted to bake, I wanted something that required little to no thinking. Voila, this recipe worked out perfect.
They taste like any other peanut butter bar, but I feel like they hardened up pretty quickly, even with being in the air-tight container. After Tuesday night, I haven't had a single bit. Other people have, with no complaint. *shrug* Maybe I'm just weird? LOL (No need to answer that one!)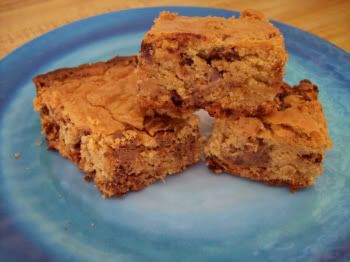 Ingredients:
½ cup butter, softened
¼ cup peanut butter
1 cup granulated sugar
1 cup packed light brown sugar
3 eggs
1 tsp. vanilla extract
2 cups all-purpose flour
2 tsp. baking powder
¼ tsp. salt
1-2/3 cups (10-oz. pkg.) peanut butter chips (Or the Swirled ones, as that's all I had)
½ cup chocolate syrup
Directions:
Preheat oven to 350F. Grease a 13x9x2-inch baking pan. Stir together flour, baking powder and salt; set aside.
Beat butter and peanut butter in large bowl. Add sugar and brown sugar; beat well. Add eggs, one at a time, beating well after each addition. Blend in vanilla.
Beat flour mixture into peanut butter mixture, blending well. Stir in peanut butter chips. Spread half of batter into prepared pan; spoon syrup over top. Carefully top with remaining batter; swirl with metal spatula or knife for marbled effect.
Bake at 350F 35 to 40 minutes or until lightly browned. Cool completely in pan on wire rack. Cut into squares. About 36 bars.