I think this is my fourth attempt at a peanut butter cupcake. They've come out either too heavy, too oily, or just plain not good enough. I'm still obsessing over
Vegan Cupcakes Take Over the World
, and am currently hinting at my mom to buy it for me. ;)
So, these aren't fully vegan, since I didn't have any soy milk left. And the frosting isn't from the book at all, since I was lacking in ingredients. So I took one off of my
recipe webpage
. Oh, yeah, have I mentioned that? Gypsy Kitchen is my recipe website; not updated nearly enough, but it's there nonetheless. :)
But, yeah. I finally have a pb cupcake recipe that works! Woohoo! Fourth try's the charm, right? ;)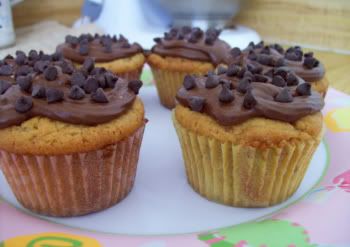 Ingredients:
3/4 cup soy milk
2 tsp. apple cider vinegar
½ cup peanut butter
1/3 cup canola oil
2/3 cup sugar
2 Tbsp. molasses
1 tsp. vanilla
2 tsp. ground flaxseed
1 cup plus 2 Tbsp. flour
1 tsp. baking powder
½ tsp. baking soda
¼ tsp. salt
Directions:
Preheat oven to 350F. Line 12 muffin cups with paper liners.
Mix soy milk with vinegar in a measuring cup and set aside to curdle. Sift the flour, baking powder, baking soda, and salt in a separate bowl.
In a large mixing bowl, cream the peanut butter, oil, sugar, molasses, vanilla, and flaxseed until well combined. Add the soy milk mixture and mix until incorporated. Gradually add the dry ingredients to the wet, mixing until just combined. Fill cupcake liners two-thirds full.
Bake at 350F for 23-26 minutes. Remove from oven and transfer to cooling racks.
Cocoa Frosting:
2 cups confectioners' sugar
2/3 cup unsweetened cocoa powder
Large pinch salt
¼ cup butter, softened
¼ cup milk
½ tsp. vanilla
Sift together dry ingredients. Cream butter, milk, and vanilla. Add dry ingredients, mixing until desired spreading consistency is reached.