For the first of the Master Baker challenges, this month's ingredient was cinnamon. Easy enough, right?
No, Kristen wanted to do something different. After a week of searching for "the perfect recipe," I finally went with one of Dorie Greenspan's Cinnamon Chocolate Squares. For some reason, it didn't work out. When I lifted it from the wire rack to a plate, I discovered that the center part of the bottom, well, collapsed. Back to the drawing board.
I was stuck on the cinnamon/chocolate idea, and wound up using my small-batch brownie recipe with a tweak or two to it.
I think they're a good balance of the two flavors. I was worried at first about how much cinnamon to use, but it worked out. Finally, something worked out today! (Mother Nature impeded on my normal Friday routine. Hmph.) Dave tried one and his only words were, "They're cinnamon-y." LOL Mission accomplished! :D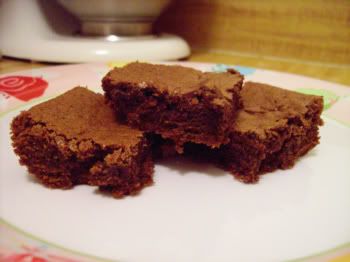 Ingredients:
½ cup flour
1/3 cup cocoa powder
¼ tsp. baking powder
2 tsp. cinnamon
1/8 tsp. salt
½ cup butter, melted
1 cup sugar
1 tsp. vanilla
2 eggs
Directions:
Preheat oven to 350F. Grease a 9-inch square pan.
In a medium-sized bowl, whisk flour, cocoa powder, baking powder, cinnamon, and salt; set aside.
Cream butter, sugar, and vanilla until creamy. Add eggs, one at a time. Gradually add flour mixture, mixing well. Spread into prepared pan.
Bake at 350F for 20-25 minutes, or until toothpick inserted near center comes out clean. Makes 16 brownies.