While on a "cake break" at work with Johanna and Amelia on Tuesday, Johanna suggested I make the above-named recipe. With very firm instructions, including, "no added mint whatsoever!" (As a side note, despite how weird it sounds, peanut butter and mint cookies are quite yummy)
I work well with requests, so long as they're within reason. I have like two feet of counter space, so a lot of things are just because I simply don't have the room. (One day!) Anyways, I didn't have anything in mind to make this week, so I went for it.
After some searching with no luck, I hit the jackpot at one of my favorite blogs:
Culinary Concoctions by Peabody
. I can't remember how many times I've been inspired by something she's made. And I've even learned a little bit about hockey, too. ;)
The taste, you ask? Pleasing. I'm currently in a good period with ol' pb. The white chips at times are too sweet (so I lessened the sugar in the recipe a bit), but that could just be me. I'd prefer it with either milk or dark chocolate, but hey, it is a request.
And I just realized I need to bring my camera to work on Tuesday, to get a group picture of my Official Guinea Pigs. :D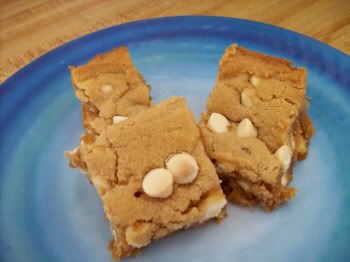 Ingredients:
1 cup all-purpose flour
½ tsp. baking powder
¼ tsp. baking soda
¼ tsp. salt
½ cup unsalted butter, softened
½ cup smooth peanut butter
3/4 cup firmly packed brown sugar
¼ cup granulated sugar
1 large egg, at room temperature
2 tsp vanilla extract
1 cup white chocolate chips
Directions:
Preheat oven to 325F. Grease an 8-inch baking pan.
Combine flour, baking powder, baking soda, and salt; set aside.
Cream butter, peanut butter, and sugars until smooth. Add egg and vanilla, mixing well. Stir in white chips. Spread into pan. If desired, sprinkle some of the remaining white chips on top.
Bake at 325F for 30-35 minutes, or until toothpick inserted near center comes out mostly clean. Let cool before cutting into bars.