She's ba-ack! :)
Life is back to normal. Or at least as normal we get around here. We had a nice visit up to Oregon. We even had more snow than we did through the Grapevine down in the LA area. There were some steady flurries through the Mt. Shasta area, which was fun. And I stepped in snow for the first time in five years. (Yeah, it's no big deal to some, but it's been a while for me!) We ate some very yummy breakfast in Ashland at
Morning Glory
, whose decor and general feel was very inspiring. Their cranberry/walnut french toast was delicious. :)
Anyways, this totally wasn't what I planned on making today. But as I was walking back from the library, I saw the local UPS driver, and that got me thinking. (Background: Used to work in receiving, got to know John, and even though I'm not in receiving anymore, I still live on the route) Long story short, he owes me some oatmeal cookies. Which led to "Could I do a cheesecake bar with an oatmeal cookie crust?"
The Quaker Oats website was my friend today. I found both the crust recipe and a cheesecake recipe that I was able to alter to my liking. The crust isn't as moist as I'd like it to be, but other than that, it's alright. I'm very glad I went with just the half tablespoon of cinnamon extract (found it at
Sur La Table
) instead of a full tablespoon, otherwise it'd would've been WAAAAY too much cinnamon. Even I have my limits! ;)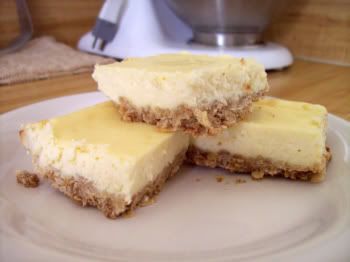 Ingredients:
1½ cups oats
1 cup flour
½ cup brown sugar
½ tsp. baking soda
1 cup butter, melted
3 pkg. cream cheese, softened
3/4 cup sugar
2 tsp. vanilla
½ Tbsp. cinnamon extract
¼ tsp. salt
3 eggs
8 oz. sour cream
Directions:
Preheat oven to 350F. Grease a 13x9-inch pan.
Combine oats, flour, brown sugar, and baking soda. Add butter, using a pastry blender or forks to combine. Press onto bottom of pan. Bake for 10-12 minutes, or until lightly browned.
Beat cream cheese, sugar, vanilla, cinnamon extract, and salt, until smooth. Add eggs, one at a time, beating just until combined. Add sour cream. Pour over crust.
Bake at 350F for 30-35 minutes, or until center is set. Let cool completely on wire rack. Cut once cool.