This was filed under the "baking endeavors to re-do" folder. Which basically consists of a bunch of stuff I made four to five years ago that I'd like to give another try, to see if it's any different or if I could make any improvements. The only thing I did different this time around with these is that I used the (remaining) butterscotch chips, since somehow there were no peanut butter ones to be found. Hmph.
Anyways, these are super-simple and take no time to whip together. I do prefer it with the peanut butter, though. The butterscotch makes them very sweet, so perhaps lessen the sugar a little bit? My dad's a big fan, not surprising; he's already blamed the dog for some of them disappearing. LOL And Penny just sits up, looks around confusedly, then lays back down on the couch. It's tough being her. Really. ;)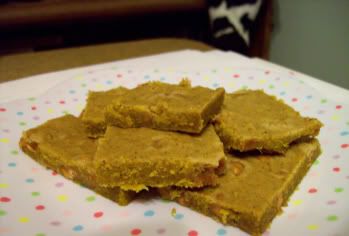 Ingredients:
2 cups all-purpose flour
2 tsp ground cinnamon
1 tsp ground cloves
1 tsp baking soda
1 cup (2 sticks) butter, softened
½ cup granulated sugar
½ cup packed brown sugar
1 cup Libby's 100% Pure Pumpkin
1 large egg
2 tsp vanilla extract
2 cups peanut butter morsels
Directions:
Preheat oven to 350F. Grease a 15x10-inch jelly-roll pan.
Combine flour, cinnamon, cloves and baking soda in a small bowl. Beat butter, granulated sugar and brown sugar in a large mixer bowl until creamy. Beat in pumpkin, egg and vanilla extract until blended; gradually beat in flour mixture. Stir in morsels. Spread into prepared jelly-roll pan.
Bake at 350F for 18-22 minutes or until wooden pick inserted in center comes out clean. Cool in pan on wire rack.