Did everyone remember to change their clocks? (At least, those that do.) Normally the spring forward doesn't bother me, but I didn't get to go to bed as early as I liked. Thus six hours of sleep does not make for a happy Kristen. And this is dangerous, posting this now, seeing as my eyes are painful, but I've been procrastinating. Again.
Oh! Good news - my dad's home from the hospital. He was sprung loose on my best friend's birthday, coincidentally the day before his own. Also good - the weather this weekend.
After the six inches of snow last Monday, 60F weather was a very nice surprise on Saturday. Too bad there's more snow in the forecast for tomorrow. Poo. Anyways, when I woke up on Saturday, the sun was shining, the snow was melting, and I wanted something summery. And you know where that led to.
Found at one of my favorite blogs,
Culinary Concoctions by Peabody
, this is my second attempt at this recipe. The first time probably didn't even get blogged about because I was lacking coconut and it just wasn't a good thing. This time, all the ingredients were in the house. Woohoo!
---Okay, an email later, I'm back. Seriously, the procrastination is at an all new level tonight. So, where was I?
Alright. The recipe. Comes together really easily. Is a very dense blondie, almost bordering on a cake-like quality. The only thing I would change is upping the lime quantity, but that's just me and the Lime Monster talking. :)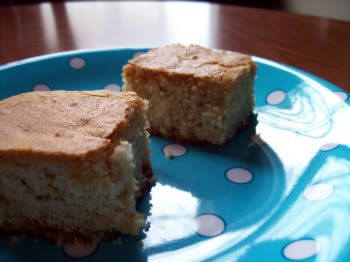 Ingredients:
1 cup flour
1 cup cake flour
1 tsp. baking powder
½ tsp. salt
¼ tsp. baking soda
2 cups (packed) golden brown sugar
3/4 cup butter, room temperature
2 large eggs
3 Tbsp. key lime juice
3/4 cup shredded sweetened coconut
Directions:
Preheat oven to 350F. Grease a 9-inch baking pan.
Whisk together flour, cake flour baking powder, salt, and baking soda; set aside.
Beat brown sugar and butter until light and fluffy. Add eggs, one at a time, followed by the key lime juice. Gradually add the flour mixture, beating just until combined. Stir in shredded coconut. Spread in prepared pan.
Bake at 350F for 45-50 minutes, or until toothpick inserted near center comes out clean. Cool completely on wire rack before cutting into bars.