As evidenced before, Dave loves cookies using the Heath Toffee and Chocolate Bits.
These
can and will be gone in no time. I offered to make something similar for him as a treat, but in bar form. I still can't trust myself not to overdose on cookie dough. When I feel that I can face the dough without devouring so much, then I shall make the cookies again. :)
This is based off an older Snickerdoodle blondie recipe, with the only main difference being the addition of the Heath bits. I think they taste wonderful. The brown sugar is very evident and the toffee flavor goes wonderful. Dave says it tastes like there's raisins in it. *shrug* Makes no sense to me. They're yummy as far as I'm concerned.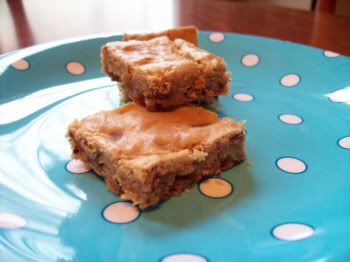 Ingredients:
1¼ cups all-purpose flour
1 tsp. baking powder
½ tsp. cinnamon
1/8 tsp. nutmeg
½ tsp. salt
1 cup brown sugar
½ cup butter, room temperature
1 egg
½ Tbsp. vanilla
½ cup Heath Toffee and Chocolate Bits
Directions:
Preheat oven to 350F. Lightly grease a 9-inch baking pan.
Combine the flour, baking powder, cinnamon, nutmeg and salt; set aside.
In a mixing bowl, beat together butter and brown sugar for 3-5 minutes. Add in the egg, then vanilla, beating until smooth. Gradually add flour mixture, beating until well blended. Stir in Heath Bits. Spread evenly in prepared pan.
Bake at 350F for 25-30 minutes, or until lightly browned. Cool completely on wire rack before cutting into bars.
4. Bake 25-30 minutes