After baking the previous recipe yesterday, I came to two unfortunate realizations:
1. I had like a quarter cup of brown sugar left.
2. There's no more vanilla.
Hmph. This does not make for a happy Kristen. So Dave's baked good was put on hold until next week. And it brings me to my "to try" folder on here.
Lemon Mascarpone Blondies... nope. Missing some key ingredients. Cinnamon Blueberry Cake... I only have strawberries. Wait, wait - ooh!
Alpineberry's Nutella Cheesecake Brownies
! No vanilla and no brown sugar needed - woohoo!
After the incident that shall only be referred to as Exploding Butter, I just set the cream cheese on top of the still-lit stove for a bit. Probably should've left it there longer, but time was ticking as it's prone to do, thus my cheesecake layer isn't as pretty as Alpineberry's. It's okay, though. It's still deliciously rich, with Nutella in both the brownie layer and the cheesecake layer. And, really, who's going to argue with that? :D
(Oh, and I now have more brown sugar and some vanilla to hold me over until the good vanilla gets here lol)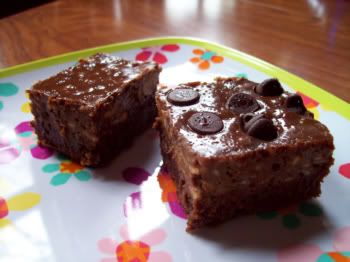 Ingredients:
Brownie Layer:
10 Tbsp. butter, melted and slightly cooled
¼ cup Nutella
2 large eggs
1 cup sugar
1 cup all purpose flour
¼ cup natural cocoa powder
Cheesecake layer:
8 oz. cream cheese, softened at room temp.
3 Tbsp. sugar
2 large eggs
1/3 cup Nutella
Directions:
Preheat oven to 325F. Grease a 9-inch baking dish.
For brownie layer:
Combine butter, Nutella, eggs, and sugar in a large bowl, mixing well. Sift in flour and cocoa powder, and mix until well combined. Pour batter into prepared pan and spread evenly. Set aside.
For cheesecake layer:
Mix the cream cheese, sugar, eggs and Nutella until well combined. Pour over brownie batter.
Bake at 325F for 40-45 minutes, or until the cheesecake looks set. Allow to cool completely in the pan before cutting.