It really shouldn't have surprised me that my first time baking after vacation would have its difficulties. But, no. That never occurred to me. Let's see... I had softened the cream cheese in the microwave (I know, cardinal sin, but I had no choice). As I was about to put it into the mixing bowl, a piece of it 'exploded' and flew onto me. Did I mention I was wearing a tank top at the time? Yeah. Cream cheese burns.
Then, as I'm trying to grab an egg from the carton, it stuck a bit, so I applied more pressure. You know where this one's going, I'm sure. Egg, dripping onto my bare foot, down the front of my shirt and the front of my jeans. This is where I start crying because I have egg on my foot. And on the carpet. Finally get the egg off, Dave "edits" my egg-carton due to the broken one (which was not my fault! It was broken to begin with!) and gets the carpet cleaner out. And then I slip and nearly fall where the carpet spray hit the floor. Then start crying again.
*big sigh* It's probably good that Dave peeled and cut my apples for me, otherwise I'm sure I would've wound up in the emergency room. (Thank you, honey, for putting up with me, btw) ;)
Alright. Accidents aside, the recipe was pretty simple. I found it at
Alpineberry
earlier in the year and saved it in my "maybe trying" folder. With today's weather being rather autumny, I thought it was only appropriate.
The only thing I would do differently next time (and there will be a next time) is to add more spice to it. They're delicious as is, but I think some cinnamon or nutmeg would really jazz it up a bit. :)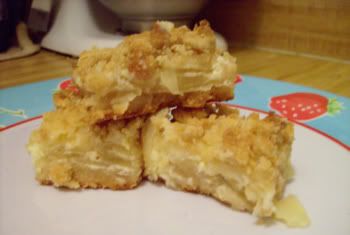 Ingredients:
Crust:
1¼ cup all purpose flour
¼ tsp. salt
3 oz. cream cheese, softened
4 Tbsp. unsalted butter, softened
¼ tsp. pure almond extract
¼ tsp. pure vanilla extract
¼ cup granulated sugar
¼ cup light brown sugar
1/3 cup almonds, finely chopped
Topping:
2 Tbsp all purpose flour
2 Tbsp granulated sugar
2 Tbsp light brown sugar
¼ cup almonds, coarsely chopped
Filling:
5 oz. cream cheese, softened
½ cup granulated sugar
1 large egg
1 Tbsp freshly squeezed lemon juice
Pinch of salt
2-3 medium Granny Smith apples, peeled, cored & cut into thin slices
Directions:
Preheat oven to 350F. Grease a 9-inch square baking pan.
For crust:
Sift flour and salt. Set aside dry ingredients.
In the bowl of a stand mixer, beat the cream cheese and butter on medium speed until smooth. Add the almond and vanilla extracts, beating on medium until smooth. Add the granulated and brown sugars, and beat on medium speed until blended, scraping down the sides of the bowl once or twice.
On low speed, mix in the flour-salt mixture and the 1/3 cup of finely chopped almonds just until the dough comes together. Dough should be crumbly.
Reserve about 2/3 cup of the crust mixture (for the topping). Press the remaining dough evenly into the bottom of the prepared pan. Prick the dough all over with a fork. Bake for 16-18 minutes, or until light golden. Remove crust from the oven.
For the topping:
While the crust bakes, make the topping by adding the flour, granulated and brown sugars to the reserved dough. Mix until well combined. It should be crumbly. Set aside topping and 1/4 cup coarsely chopped almonds while you make the filling.
For the filling:
In a large mixing bowl, beat the cream cheese and sugar until smooth. Beat in the egg, lemon juice and salt until well mixed.
Assembly:
Arrange the apple slices over the baked crust. Pour the cream cheese filling over the apples and gently spread the filling to cover. Crumble the topping over the filling. Sprinkle with the almonds.
Bake at 350F for 45-50 minutes, or until light golden brown. Let the bars cool in the pan for about 30 minutes. Remove from pan and cool completely on a cooling rack before cutting.