Knowing that we were going up to Half Moon Bay's Pumpkin Festival today, I decided not to overwhelm Dave with the pumpkin-ness. It was a good trip - traffic was a bit much on Route 92, but I sang along with the
Spamalot
soundtrack and therefore didn't care so much. :) Sadly, there was no pumpkin fudge this year, which has been a highlight for me every time that I've gone. Even sadder, since we're moving next May/June, I won't be going to the Pumpkin Festival again for a while. I'll either have to make my own or find someplace in New England that makes it.
Also, unfortunately, I can't remember where I found this recipe. I copied it out when the printer was being moody, and failed to write down its source. Oops.
It turned out well. I loved the batter, so light and smooth. I almost feel like there was too much. The edge pieces are a bit big and definitely more than a biteful! If I made this again, I'd add some cinnamon to the batter was well. In contrast to the topping, it seems almost plain. *shrug*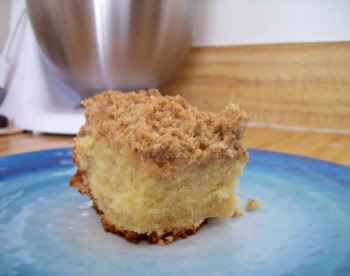 Ingredients:
Topping:
1/3 cup sugar
1/3 cup brown sugar
1 tsp. cinnamon
½ tsp. ginger
½ tsp. cardamom
½ tsp. allspice
¼ tsp. salt
1½ cups flour
½ cup butter, melted
Cake:
1-3/4 cups flour
½ tsp. baking soda
3/4 tsp. baking powder
¼ tsp. salt
2/3 cup butter, softened
1 cup sugar
2 eggs
1½ tsp. vanilla
2/3 cup sour cream
Directions:
Preheat oven to 350F. Grease a 9-inch square baking pan.
Whisk together all crumb toppings except for butter. Gradually add butter. Once incorporated, squeeze small clumps together, varying in size. Set aside.
In a medium bowl, mix flour, baking soda, baking powder, and salt; set aside.
In mixing bowl, cream butter and sugar until light. Beat in eggs, one at a time, then vanilla. Alternately add flour mix and sour cream, until well mixed. Pour into prepared pan. Top with crumbles.
Bake at 350F for 40-45 minutes. Cool on wire rack. Cut into squares.