Sure, it was 71 degrees outside today. Not exactly autumnal, despite the leaves to shushel through. But I wanted pumpkin, gosh darnit, and nothing else would do. (Well, maybe gingerbread. Or something with 'home'-y spices. But you know what I mean.) I perused my usual recipe outlets with nothing catching my eye.
And then I decided to look over at
Bake Space
, where I hit the jackpot. Jackpot, as in, "Oh my god, I won MegaBucks!" kind of jackpot, in my opinion.
Even though I've had little to no experience with curry powder (I'm not one for spicy foods usually), just the thought of it flavored with the pumpkin called to my very soul. I searched around a bit more, but nope, it hooked me in with its sweet siren song.
I had my concerns, as I found myself to be a bit sneezy and sniffley while being in its presence. (The curry powder, that is.) I tried the batter, wasn't unhappy. Was very happy with the fact that I had very little batter left over afterwards. (Don't you hate recipes that leave you with a ton?)
The
original recipe
made 24, but just in case I didn't like it, I halfed it and just did 12. Also made a chocolate ganache from the
Vegan Cupcakes Take Over the World
book, instead of the one on there. And I gotta say, I'm not impressed with the ganache. I had a very hard time working with it, despite its ease of making. Next time (and, oh, yes, there will be a next time. I don't care if I wind up being the only one who adores these babies.), I think I'll go with more traditional frosting.
Oh, the end result? Even with the not-as-pretty-as-I-imagined frosting? Divine. :)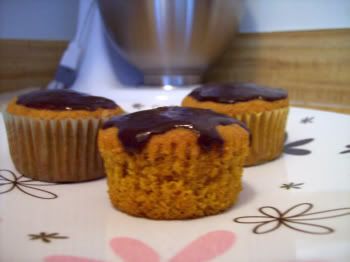 Ingredients:
1 cup flour
½ tsp. baking powder
½ tsp. baking soda
½ tsp. salt
1¼ tsp. curry powder
Pinch of cayenne pepper
1 tsp. cinnamon
¼ tsp. nutmeg
¼ cup brown sugar
3/4 cup sugar
½ cup butter, melted and cooled
2 eggs, lightly beaten
7½ oz. pureed pumpkin
Directions:
Preheat oven to 350F. Line 12 muffin cups with paper liners.
Whisk together flour, baking powder, baking soda, salt, and spices; set aside.
Cream butter, brown sugar, and sugar. Add eggs. Gradually mix in dry ingredients. Add pumpkin. Fill muffin cups about halfway full.
Bake at 350F for 18-22 minutes, or until a toothpick inserted near the center comes out clean. Let cool on wire rack.