California doesn't really get autumn. Sure, there are some trees that change color, and sometimes there's that nip in the wind that just has that "autumn" scent to it. But then the next day it's 75 again.
My favorite childhood memory of autumn is shushelling through the fallen leaves. That resounding crunch, the splash of colors... and then getting yelled at for traipsing through the leaf pile that your dad recently raked. ("It wasn't me, it was the dog!") (As a side note, don't try that one when the dog is inside the house) ;)
I'm not sure what it is, but this time of year just screams out comforting, home-y scents and tastes. Apple, cinnamon, pumpkin, etc. They just make things seem warmer. The biting wind gets smaller teeth, for lack of a better way of putting it. :)
I made these a few years ago, when visiting at home, and I believe half the pan was gone in less than three hours. They're pretty easy to make and come together quickly. Next time, I think I'll add a bit more spice.
Oh, and they have to be something good. Dave doesn't like pumpkin pie, but he had two of the bars tonight. :)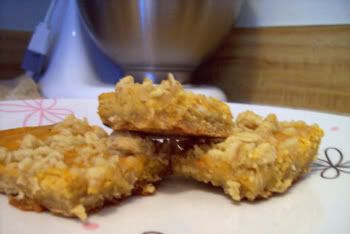 Ingredients:
1-1/3 cups flour
½ cup firmly packed brown sugar
3/4 cup granulated sugar, divided
3/4 cup (1½ sticks) cold butter
1 cup old-fashioned or quick-cooking oats, uncooked
½ cup chopped pecans
1 pkg. (8 oz.) cream cheese, softened
3 eggs
1 can (15 oz.) pumpkin
1 Tbsp. pumpkin pie spice
Directions:
Preheat oven to 350F. Line 13x9-inch baking pan with foil; grease foil lining.
Mix flour, brown sugar and ¼ cup of the granulated sugar in medium bowl; cut in butter with pastry blender until mixture resembles coarse crumbs. Stir in oats and pecans. Reserve 1 cup of the oat mixture; press remaining mixture onto bottom of pan. Bake for 15 minutes.
Beat cream cheese, remaining ½ cup sugar, eggs, pumpkin and pumpkin pie spice in small bowl with electric mixer on medium speed until well blended. Pour over crust; sprinkle with reserved crumb mixture.
Bake at 350F for 25 min. Lift from pan using foil handles; cool completely. Cut into 24 bars. Store leftover bars in tightly covered container in refrigerator.