So this post brings two out-of-the-ordinary experiences.
1. This is the first time I've made a pie that wasn't pumpkin. Of course, the crust isn't homemade, because there's a horror story involving the makings of homemade crust (which I'm just not ready to share yet lol), but it is whole wheat and organic. ;) But I woke up yesterday morning and just wanted to make a pie. Odd.
2. Dave likes this better than I do. A whole lot better than I do. I had a few bites, and it was just kinda 'eh' for me. I looked up, his place was completely empty. And when I said I'd bring some in for Henelyne and Johanna, his words were "If there's any left by then." Very odd. I'm the sweets lover in this relationship. He's the cook, I'm the baker, simple as that.
Even with the apple peeling and slicing, the recipe was pretty easy to put together. Usually I save that job for Dave, but it felt nice, getting into the flow of peeling and what not. And it did make the apartment smell very nice and cozy. I'm just not a fan of the taste. I'm not sure what it is, if it's the sour cream or the combination of everything, but... I probably won't have any more of it, and I'm fine with that. :)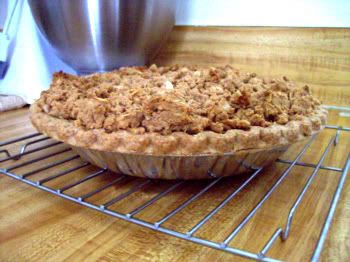 Ingredients:
8 oz. sour cream
3/4 cup sugar, divided
2 eggs
2 Tbsp. plus 3/4 cup all-purpose flour, divided
2 tsp. vanilla extract
¼ tsp. salt
4 cups (around 4 or 5) peeled, thinly sliced apples
1 unbaked 9-inch pie crust
1 cup quick-cooking or regular rolled oats
1 tsp. ground cinnamon
1 cup peanut butter
1 Tbsp. butter, softened
Directions:
Preheat oven to 350F.
Stir together sour cream, ½ cup sugar, eggs, 2 tablespoons flour, vanilla and salt in large bowl with whisk. Add apples; stir until well blended. Spoon into unbaked crust.
Stir together oats, remaining 3/4 cup flour, remaining ¼ cup sugar and cinnamon. In small microwave-safe bowl, place peanut butter and butter. Microwave on high for 30 seconds or until butter is melted. Stir mixture until smooth. Add to oat mixture; blend until crumbs are formed. Sprinkle crumb mixture evenly over apples.
Bake at 350F for 55-60 minutes, or until apples are tender and topping is golden brown. Cool completely on wire rack. Cover; refrigerate leftover pie.