I woke up this morning knowing that I wanted to do something with pumpkin and brownies. Searched around for a bit with nothing that resembled what I had in mind. So I walked to the library, like I normally do with my Fridays, still thinking about the texture and image. I felt like I had one before and could see it perfectly in my mind.
Got home and started looking through my old folder, and sure enough, I found it. It was the first recipe that I put together myself. On November 17th, 2003. Isn't that appropriate? Almost four years to do the day. :)
Somehow I don't remember making such a mess the first time. LOL Still don't know how I wound up with brownie batter on my elbow. But they tasted the same. Very moist. A good combination of pumpkin and chocolate. I like. :)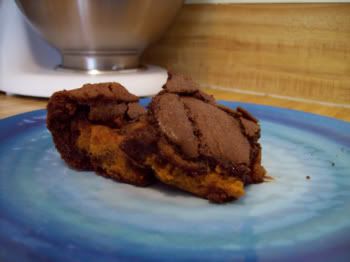 Ingredients:
Marble Part:
1¼ cup pumpkin
¼ cup evaporated milk
1/3 cup sugar
1 egg white
1 tsp. cinnamon
¼ tsp. nutmeg
Brownie:
3/4 cup cocoa
1¼ cups flour
½ tsp. baking powder
¼ tsp. salt
1 cup butter, melted
2 cups sugar
2 tsp. vanilla
3 eggs
Directions:
Preheat oven to 350F. Grease a 13x9-inch baking pan.
Beat pumpkin with milk, sugar, egg white, and spices until smooth. Set aside.
Whisk together flour, cocoa, baking powder, and salt; set aside.
Beat butter and sugar until creamy. Add vanilla. Add eggs, one at a time, beating well after each addition. Add dry ingredients, beating well.
Remove one cup of batter. Pour remaining batter into prepared pan. Spread pumpkin filling over chocolate. Drop reservered batter by teaspoons over filling. Using a knife, gently swirl through top layers, creating a marbled affect.
Bake at 350F for 35-40 minutes, or until toothpick inserted near center comes out clean. Cool completely. About 36 brownies.