I really like these. First, the flavor. Whoever put chocolate and mint together needs to be sainted. Second, the color contrast. I used the Mint Swirl morsels from Nestle, and they just compliment the chocolate cookie color so well. They make me happy just looking at them. :)
And, oddly enough, I found a picture that I took last year...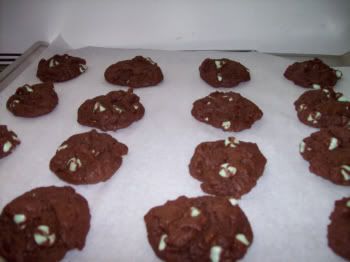 Ingredients:
2¼ cups flour
2/3 cup cocoa
1 tsp. baking soda
¼ tsp. salt
1 cup butter
3/4 cup sugar
2/3 cup brown sugar
1 tsp. vanilla
2 eggs
12 oz. package chocolate/mint swirled morsels
Directions:
Preheat oven to 350F. Line baking sheets with parchment paper.
Combine flour, cocoa, baking soda, and salt; set aside.
Beat butter, sugar, brown sugar, and vanilla until creamy. Add eggs, one at a time, beating well after each addition. Gradually add dry ingredients. Stir in swirled morsels. Drop by teaspoonful onto prepared baking sheets.
Bake at 350F for 9-11 minutes. Cool on sheets for 2 minutes, before moving to wire rack to cool completely.
Makes about 5-6 dozen.