So it's December 1st already. How crazy is that? But I'm doing good this year. I'm about 95% done with my shopping, have all those things wrapped, have my 'to bake for' list complete, and only need a couple more cards. Oh, and then the whole decorating thing. But that's next weekend.
But for me the first is about something even greater. It means I can finally listen to Christmas music without being judged. :) I have always loved Christmas music and see no problem with listening to it in the middle of summer. Why not, right? But you get weird looks from people. Or, worse, get told to turn it down. Hmph.
So I'm here now, on the first, with the coolest weather the Bay Area's had since last winter (it hasn't even reached 60 today!), singing along to Christmas cd number three for the day. :)
Anyways, I made these yesterday. I've been quite exhausted lately and really didn't want to do anything that required that much thought or effort. Thus, these brownies.
I'm kinda iffy on them. They're very peanut butter-y, and it must not be a good time for me and the pb. But Dave loves 'em. Ate a whole row yesterday. LOL And I'm quite sure Johanna and Henelyne will love them, too. I'm always the oddball. LOL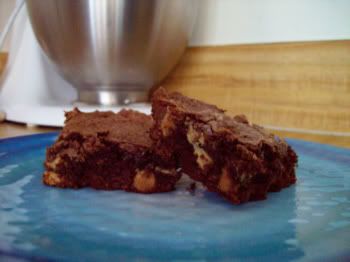 Ingredients:
1 cup all-purpose flour
3/4 cup cocoa
½ tsp. salt
¼ tsp. baking powder
1 cup butter, softened
3 oz. cream cheese, softened
2 cups sugar
3 eggs
1 tsp. vanilla extract
1-2/3 cups (10-oz. pkg.) peanut butter chips
Directions:
Preheat oven to 325F. Grease the bottom of a 13x9x2-inch baking pan.
Mix together flour, cocoa, salt, and baking powder; set aside.
Beat butter, cream cheese and sugar until fluffy. Beat in eggs and vanilla. Gradually add flour mixture to butter mixture, beating well. Stir in chips. Spread batter into pan.
Bake at 325F for 35 to 40 minutes or until brownies begin to pull away from sides of pan. Cool completely. Cut into bars. About 36 brownies.