I wasn't sure what to make this week. Finally I decided on these cupcakes, originally found over on
Tartelette
, since last week's cupcakes weren't quite up to par. I only did a half-batch, though, just in case, but I'll post the original recipe.
I tried the cupcake naked at first and, boy, was I pleased. Soft, moist, and pumpkin-y. Then came the frosting. I had never had mascarpone before, so I wasn't sure what to expect. A slightly more... demure cream cheese. Doesn't have the same kick as the regular cream cheese, and was much smoother. Put the two together (cupcake and frosting) and you have a winner. :)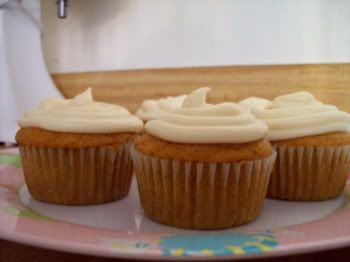 Ingredients:
2¼ cups flour
1 tsp. cinnamon
½ tsp. ground ginger
1/4 tsp. ground nutmeg
2 tsp. baking powder
1½ tsp. baking soda
¼ tsp salt
3/4 cup butter, softened
1-3/4 cups sugar
3 eggs
1 (15 oz.) can pumpkin
2 tsp. vanilla
1 cup milk
Directions:
Preheat oven to 350F. Line 24 muffin cups with paper liners.
Whisk flour, spices, baking powder, baking soda, and salt in a bowl; set aside.
Cream butter and sugar until fluffy. Add eggs, one at a time, beating well after each addition. Combine pumpkin, vanilla extract and milk in a separate bowl. Alternately add flour mixture and pumpkin mixture, mixing thoroughly after each addition. Divide evenly among the cupcake liners.
Bake at 350F for 20-25 minutes, or until toothpick inserted near center comes out clean. Let cool completely before frosting.
Mascarpone Frosting:
16 oz. mascarpone cheese, at room temperature
½ cup butter, at room temperature
4-5 cups sifted powdered sugar
1 tsp. vanilla extract
In an electric mixer, beat butter and cream cheese at medium speed until creamy. Add 4 cups of the powdered sugar and vanilla. Beat until combined. Add more sugar, if needed, for desired consistancy.