I've been so incredibly lazy and/or tired these days. I kept meaning to post this, since I made the cupcakes themselves on Friday. But I either ran out of time, forgot, had a bad headache, or forgot. Perhaps my brain is being eaten by trolls at night, and that can be my excuse? :)
So I found the recipe over at
BakeSpace
, and the combination was appealing. The batter tasted delicious, so I had high hopes. Sadly, the cakes themselves seem to be a bit on the dry side. And it's not just my tastebuds being off-kilter, others have agreed. So I'm not sure if I'd make that part again.
But the frosting! Oh, the frosting. I'd have a love affair with it, if it were possible. I'm so glad I have extra frosting. There are some brownies that need a frosting, and that will just be perfect. It tastes just like the pumpkin cheesecake. Yum.
Oh, and I only made a half batch, just in case. :)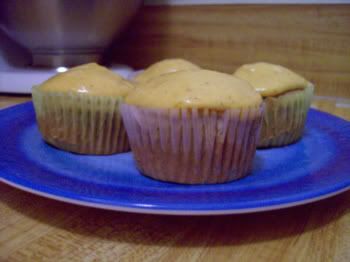 Ingredients:
3 cups all-purpose flour
1 tsp. baking soda
½ tsp. salt
1½ tsp. ground ginger
1 tsp. ground cinnamon
½ tsp. ground allspice
1 cup butter
1 cup firmly packed brown sugar
4 large eggs, room temperature
1 cup buttermilk
2 Tbsp. light, unsulfured molasses
2 tsp. vanilla extract
Directions:
Preheat oven to 350F. Line 24 muffin cups with paper liners.
In a medium bowl, combine the flour, baking soda, salt and spices. Set aside.
In a large bowl, cream the butter and brown sugar until fluffy. Beat in the eggs, one at a time. Add the dry ingredients in two parts, alternating with the buttermilk. Stir in the molasses and vanilla. Spoon the batter into the cups about 2/3's full.
Bake at 350F for 20-25 minutes, or until the tops spring back when lightly touched. Let cool in pans for about ten minute, before removing to a wire rack to cool completely.
Pumpkin Cream Cheese Frosting:
8 oz. cream cheese, softened
½ cup pumpkin puree
¼ tsp. ground allspice
¼ tsp. ground nutmeg
½ tsp. vanilla extract
3-4 cups powdered sugar
In a large bowl, beat cream cheese and pumpkin puree until smooth, about 2-3 minutes. Add the spices and vanilla extract,, mixing well. Gradually add the sugar and beat until desired consistency. Refrigerate for 1 hour, Remove from refrigerator 5-10 minutes before using. Spread on the tops of the completely cooled cupcakes.