Well, my weekend didn't go exactly as planned. I did sort through a lot of books from my younger days that are going to be donated. The current count is 325 books. Mostly of the Sweet Valley Twins, Sunset Island, Freshman Dorm, etc. My pre-teen and teenage years books, mostly. And I still have more going; probably about a hundred of the Babysitter's Club books. Yep, I was one of those. Had to have every single one. No, those obsessive traits aren't around anymore at all. ;)
Anyways, I didn't get to make the lime blondies yet. Maybe next weekend. This morning I concentrated on making something that I could bring to work. When Dave and I went to the grocery store, there were blueberries on sale - a pint for $1.50. Not bad, right? Thus my search for blueberry-related baked goods was on.
I found the basic outline of this one over at AllRecipes and altered it a bit, adding brown sugar and some more spices. Looking back, some sour cream would have done well, too, but the convenience store at the top of the street charges insanely high amounts ($2.98 for an 8-ounce package of cream cheese!) It tastes well enough, though. The 'streusel topping' leaves a lot to be desired, though. But it's decent enough. *shrug*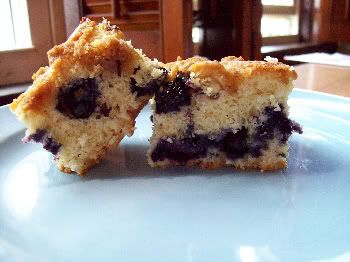 Ingredients:
2 cups flour
2 tsp. baking powder
½ tsp. salt
¼ cup butter, softened
½ cup sugar
¼ cup brown sugar
½ cup milk
2 cups fresh blueberries
½ cup brown sugar
3 Tbsp. flour
1 tsp. cinnamon
Ginger
Nutmeg
3 Tbsp. butter
Directions:
Preheat oven to 375F. Grease a 9-inch springform pan.
Sift together flour, baking powder, and salt; set aside.
Cream butter and sugars until light and fluffy. Beat in egg. Alternately add flour mixture and milk, beating until no streaks of flour remain. Stir in berries. Gently spread into prepared pan.
Mix together brown sugar, flour, and spices, then cut in butter, mixing until crumbly. Sprinkle over batter.
Bake at 375F for 40-45 minutes, or until a toothpick inserted near center comes out clean. Let cool in pan on wire rack before cutting.