Today was really warm. Scratch that. Today was really hot. Definitely the warmest since moving home. The heat index hit 96. And if you've spent any time in New England in the summertime, heat generally equals humidity. When you walk out your front door and you feel like you just stepped out of the shower. When you stick to patio furniture. And I won't even begin about one's hair practically doubling in size due to frizz. ;)
Dave decided to grill tonight, so I thought I'd surprise my parents with a nice dessert. But I really, really did not want to use the oven. A friend of mine online had linked to a fruit tart recipe over at
NPR
, and that got the ball rolling. The thought of the mascarpone cream was really what did it for me. But as I still lack the confidence and counterspace to properly work with dough, I went with pre-made tart shells. At least, I went with those mentally. At the grocery store, they didn't have them. So I went with the puff pastry shells, which require 20 minutes of oven-time. *shrug* Well, it could have been worse, right?
Later in the evening, as I was perusing the food blogs, I discovered that this month's
Sugar High Friday
is being hosted by Susan of
Food Blogga
, and the theme is berries. Timing actually worked WITH me for a change. :)
These came together like a dream. From the NPR recipe, I went with the mascarpone cream, and then decorated with blueberries and strawberries. As an alternative for my mom, who can't do the seeds, I used peaches, and she was quite pleased. I think the cream part is going to be my go-to for fillings these days. Oh, it was like heaven on a spoon.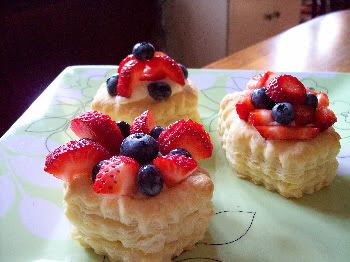 Ingredients:
6 puff pastry shells
8 oz. mascarpone cheese
1/3 cup very cold heavy cream
¼ cup sugar
Strawberries, sliced
Bluberries
Directions:
Prepare puff pastry shells as directed.
Once they are fully cooled, beat mascarpone cheese, cream, and sugar until mixture holds stiff peaks. Spoon into shells. Decorate with fruit. Keep chilled until serving.