I had a very simple, very direct request from my mom for baking this weekend. Chocolate. A self-described chocoholic, she started hinting at it on Wednesday or Thursday. By yesterday evening, it became a flat-out, "Are you baking something with chocolate yet?" So I thought I'd be a good daughter and make something super chocolatey for her.
One of my earliest food-related memories involves chocolate. I can still easily see myself stirring the pudding, standing on my stepstool, and wanting so badly to taste it. And then the absolute HORROR of having to wait for it firm up! But what I remember even more? Licking the wooden spoon. There are pictures of three-year-old me, with chocolate smeared all over my chubby cheeks.
And, hey, sometimes when licking the spoon or the beaters nowadays, sometimes chocolate still makes its way onto my face. ;)
Found over at
VeryBestBaking.com
, it pulls together VERY easily. The batter is very light in texture, almost mousse-like. As a finished product, it's very fudgey, very rich. Definitely meeting my mom's chocolate criteria. :)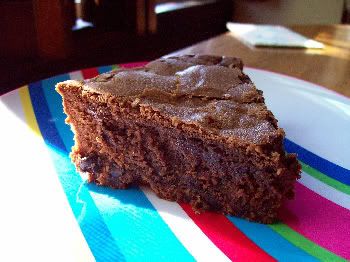 Ingredients:
2 cups semi-sweet chocolate chips, divided
3/4 cup butter, softened
3/4 cup sugar
2 eggs
1 cup flour
¼ cup milk
Directions:
Preheat oven to 350F. Grease a 9-inch round baking pan.
Microwave 1 cup of chocolate chips in a microwave-safe bowl on HIGH for 1 minute, then stir. If necessary, microwave at additional 10- to 15-second intervals, stirring until smooth. Cool to room temperature.
Beat butter and sugar until creamy. Add eggs, then beat for 2-3 minutes. Add melted chocolate. Alternately add flour and milk. Stir in remaining morsels. Spread into prepared pan.
Bake at 350F for 40-45 minutes, or until a toothpick inserted near center comes out clean. Let cool completely on wire rack.