If it hasn't been obvious yet,
Culinary Concoctions by Peabody
is one of my favorite blogs. I generally read my "blog list" once or twice a week, and bookmark as needed. But when I'm not sure exactly what I want to make, Peabody's is one that I'll browse through, and more often than not, I'll find something that sounds great. And today was no exception.
Dave and my dad spent most of the day outside, redoing the stairs on the deck, so I wanted to make something just for them. My dad is growing less picky when it comes to baked goods and Dave won't argue with anything peanut butter. So when I saw
this recipe
, I knew it would be a winner. Since my big pan is still in use, I halved the recipe and used a 9-inch pan.
And, now that I think about it, this could be a Peabody weekend, as I really need to use some lime juice and FINALLY have acquired some cake flour. ;)
These taste exactly like peanut butter cookies. I almost felt like the bars should have criss-crosses on the top, they're that similar. The only thing I didn't do was the topping, as I was lacking in ingredients. (I really miss being within walking distance of a grocery store) Even without it, though, it's that classic pb cookie flavor. :)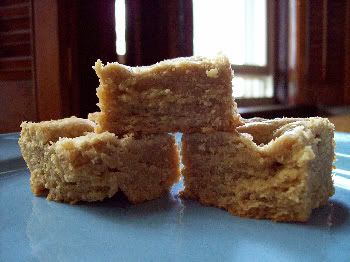 Ingredients:
1½ cups flour
1 tsp. baking soda
¼ tsp. salt
½ cup cold butter, diced
½ cup sugar
½ cup brown sugar
1 egg
½ tsp. vanilla
½ cup peanut butter
Directions:
Preheat oven to 350F. Grease a 9-inch baking pan.
Sift together the flour, baking soda, and salt; set aside.
Beat butter and sugars until light and fluff. Add egg and vanilla, then add peanut butter, mixing well. Gradually add flour mixture, beating just until completely incorporated. Spread into prepared pan.
Bake at 350F for 25-30 minutes. Let cool completely before cutting into bars. Makes about 16 bars.