I hope everone had a fun, safe evening on NYE. We tried valiantly to stay up, but alas... early morning work schedules were what defeated us. Next year, Dick Clark. Next year. ;)
So my first baked good of 2009 proved to be a bit of challenge. Mainly because of one thing: Dave and my mom used up the last of the brown sugar. Do you know how many recipes call for brown sugar? Especially if you're feeling like something with peanut butter? HMPH!
After a lot of searching, I found these over on AllRecipes...
Czechoslovakian Cookies
. Which led me to the following thoughts:
-I was the only kid in my 3rd and 4th grade classes that not only knew that Czechoslovakia existed and where it was, but I was also the only one that could spell it properly. :) (I really liked maps as a kid lol)
-Czechoslovakia no longer exists. As of some-year-I-can't-remember, it's now Czech Republic and Slovakia.
That out of the way, these bars. Cookies, if you will. Pretty darn easy to make, but not nearly enough jam. I didn't measure to begin with, just covered the dough, really, but it definitely could have used more. I found the use of cardamom in them to be interesting. Maybe it's just me, but cardamom, in what I've used it in, gives it a slight citrus-y flavor. Does anyone else ever get that? *shrug* It worked out well, though; I used seedless raspberry preserves and thought it went nicely together.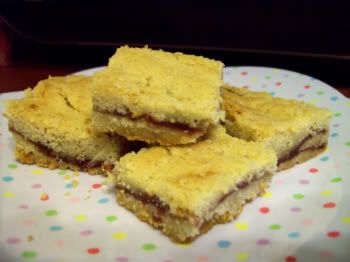 Ingredients:
1 cup butter
1 cup white sugar
2 egg yolks
1 tsp. vanilla extract
1/8 tsp. ground cardamom
¼ tsp. ground allspice
2 cups all-purpose flour
1 cup chopped pecans (optional)
½ cup jam of choice
Directions:
Preheat oven to 325F. Grease an 8-inch baking dish.
Beat butter and sugar until light and fluffy. Add egg yolks, then vanilla. Whisk together flour, spices, and pecans (if using), then gradually add to the butter mixture.
Spread half of the dough onto the bottom of prepared pan. Carefully spread jam over the dough, then cover the jam with remaining dough.
Bake at 325F for 55-60 minutes, or until lightly browned. Let cool completely before cutting into bars.