For all the warnings of the big, bad Internet, I think I've been really lucky. Over the past... 16 years (holy moly!), I've made some really great friends. Friends that I know will be around my entire life. Two, in fact, have been around for more than half my life already.
Ivy (originally from CA) and Sandy (from IL), these girls have been my best friends since were 11 and 12 years old. It started out as a mutual love of Mickey Mouse Club, which then progressed into being penpals, and then back to the Internet again. We don't talk all the time, but I know that no matter where I am in life, they can always be considered a friend. I finally got to meet Ivy this past summer, when Dave and I drove through Phoenix. No awkwardness or anything. In fact, I think Dave might have felt a bit left out, what with all the inside jokes and memories that were shared. Oops. Sorry, honey. :)
My other lifetime friend is Courtney, also in IL. By best reckoning, it's been about ten years now. I was doing fundraising for RAINN and what began as her ordering some tshirts (was that it?), lead to emails and eventually "conversations" over the computer. Anyone remember v-stream, where you could call up an 800 number, say whatever you wanted, then email the confirmation number to the intended? Yeah, we did that for a while. We've been through a lot in life, and I've never, ever felt that she didn't support my choices 100%, and vice versa. :) She was the one who passed on this recipe, originally from
Midwest Living
, describing them as a "mouthgasm". The girl does not lie, let me tell you. These are fan-freakin'-tabulous.
They're very reminiscent of a Girl Scout cookie, the tagalongs, I believe? The ones with the peanut butter inside the chocolate dough. Just minus the chocolate coating on the outside. They're definitely worth the work. And they're the first cookie that I've made in nearly a year. At least it was something worthy. ;)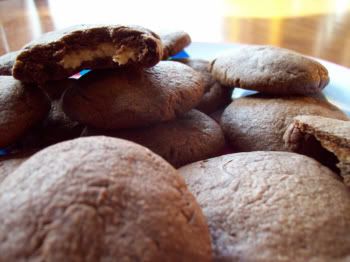 Ingredients:
1½ cups all-purpose flour
½ cup unsweetened cocoa powder
½ tsp. baking soda
½ cup butter, softened
½ cup sugar
½ cup packed brown sugar
¼ cup peanut butter
1 egg
1 Tbsp. milk
1 tsp. vanilla
3/4 cup sifted powdered sugar
½ cup peanut butter
2 Tbsp. granulated sugar
Directions:
Preheat oven to 350F. Line cookie sheets with parchment paper.
Stir together flour, cocoa powder and baking soda. Set flour mixture aside.
In a large mixing bowl, beat together butter, sugar, brown sugar, and the ¼ cup peanut butter with an electric mixer until combined. Add egg, milk and vanilla; beat well. Gradually beat in flour mixture. Form chocolate dough into 32 balls about 1¼ inches in diameter. Set aside.
In a medium mixing bowl, combine powdered sugar and remaining ½ cup peanut butter till smooth. Shape into 32 (3/4-inch) balls.
Slightly flatten a chocolate dough ball and top with a peanut butter ball. Shape the chocolate dough over the peanut butter filling, completely covering the filling. Roll dough into a ball. Repeat with the remaining chocolate dough and peanut butter filling.
Place 2 inches apart on prepared cookie sheets. Lightly flatten with bottom of glass dipped in remaining sugar.
Bake at 350F for 8 minutes, or until just set and surface is slightly cracked. Let cookies stand for 1 minute. Transfer cookies to a wire rack to cool. Makes 32 cookies.