Admittedly, I'm generally behind on most things. Except for time. I'm very good at being on time. But movies, sometimes books, current trends? Yeah, forget it. Most movies that everyone and their mother have seen (with the exception of LOTR and all the Harry Potter movies), I probably haven't seen yet. Forest Gump? Saw it for the first time maybe four years ago? Star Wars? Bits and pieces, but have never seen one in its entirety. (Please don't throw anything at me) ;)
This recipe, originally created by Donna Hay, seems to be very popular. Although most posts that I found about it were from four years ago. Again, behind. But it's okay; they were worth the wait. And, in my defense, I didn't read food blogs four years ago.
Since the introduction of Nutella to this household, my parents have become addicted. I'm worried that I might need a 12-step program for them or something. Seriously. Since I'm not usually off of work today, I thought I'd surprise them with these. Dave gets his peanut butter baked goods tomorrow, if all goes as mentally planned.
My only complaint about these was the swirling in of the nutella. That could be due to the fact that I was using a cake tester since there are no toothpicks in this house. But other than that, I'm pleased. Really easy to make, not much to clean up - good deal. :)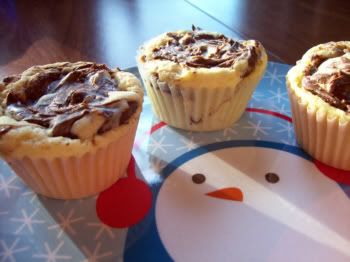 Ingredients:
10 Tbsp. butter, softened
3/4 cup sugar
3 eggs
½ tsp. vanilla
1-3/4 cups flour
2 tsp. baking powder
¼ tsp. salt
Nutella (about 1/3 cup)
Directions:
Preheat oven to 325F. Line 12 muffin cups with paper liners.
Beat butter and sugar until light, about two minutes. Add eggs, one at a time, beating until fully incorporated, then add vanilla. Whisk together the flour, baking powder, and salt; add gradually to the butter mixture.
Fill each muffin cup about 3/4 full, then top with about 1½ tsp. of Nutella. Using a toothpick, swirl the Nutella with the batter, creating a marble-y, swirly pattern.
Bake at 325F for 20 minutes, then cool completely on a wire rack.