I know, muffins again. But I'm finding them to be perfect to bring to work, as a snack either mid-morning when the blood sugar starts to get low, or mid-afternoon, when the energy starts to get low. Plus I like that the cleanup is relatively minimal, what with using the "found-on-clearance-after-Valentine's Day" muffin liners. :D
I found the original recipe on
Allrecipes
, but I did alter it a bit. When I make them again (as it's already been requested :D), I'm going to add a bit more spice to them, although I haven't figured out yet what will work best. Any ideas?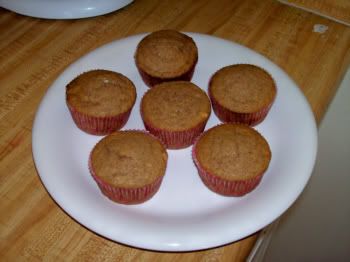 Ingredients:
½ cup butter
1/3 cup brown sugar
1/3 cup granulated sugar
2 eggs
1½ cups flour
1½ tsp. cinnamon
1 tsp. allspice*
2 tsp. baking powder
½ tsp. baking soda
1 cup applesauce
(*I didn't have it, so I just put in some ginger and nutmeg)
Directions:
Preheat oven to 350F. Line 12 muffin tins with paper liners.
In a medium bowl, combine flour, spices, baking powder, and baking soda; set aside.
Cream butter and sugar. Add eggs, one at a time, beating until smooth. Alternately add flour and applesauce, beginning and ending with the flour mixture. Mix just until blended. Spoon batter into muffin tins, about 2/3's full.
Bake at 350F for 17-20 minutes.