When I read about the above over at
Mele Cotte
, I knew I had to take part. Between three of four grandparents dying of cancer, my dad is currently going through his third round of chemo.
I went through the Mayo Clinic's recipe webpage, and finally decided upon their
Mixed Berry Pie
. Which are really mini tarts, but, hey. I won't be picky. ;)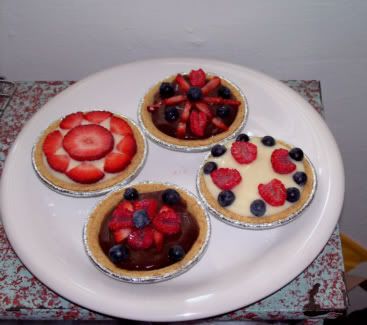 (At least we know with this blog, my close-up-photography skills are bound to improve!) :D
Ingredients:
12 to 15 medium strawberries, sliced
3/4 cup raspberries
1/2 cup fat-free, sugar-free instant vanilla pudding made with fat-free milk
6 single-serve (tart-size) graham cracker pie crusts
6 Tbsp light whipped topping (optional)
Directions:
In a small bowl, mix together the strawberries and raspberries.
Spoon 4 teaspoons of the pudding into each pie crust. Add about 2 tablespoons of the strawberry-raspberry mix to each pie. Top the fruit with 1 tablespoon whipped topping.
Serve immediately or refrigerate until ready to serve.
So, I altered it a bit, because I wanted to make pretty designs. :) I also chose to do both chocolate and vanilla, for some variety. I ate one already - very yummy. Good for summertime, too, for a quick dessert. :)