I saw these posted over at
Culinary Concoctions by Peabody
, and immediately added them to my "wanting to try" file. A random fit of baking occurred tonight, and, since I had the sour cream, I went for it.
Of course, mine didn't come out nearly so pretty as hers, but it's okay. Some of the tops spread like anything and seriously looked like a snickerdoodle. And the taste? Soft, fluffy, and moist - with just the right amount of spices. I almost want to call them muffcakes, because they don't seem overly muffin-y to me.
(I'll refrain from posting the 'during' pictures. I don't have a cookie scoop, so rolling these babies in the cinnamon sugar was not a pretty process!)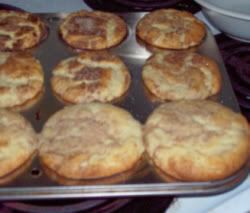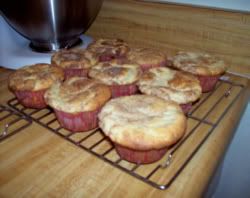 Ingredients:
1 cup butter
1 cup sugar
2 tsp. vanilla
2 eggs
3/4 tsp. baking soda
3/4 tsp. baking powder
3/4 tsp. cream of tartar
3/4 tsp nutmeg
2¼ cups flour
1¼ cups sour cream
1 cup sugar and 2 Tbsp. cinnamon for rolling
Directions:
Preheat oven to 350F. Line 12-18 muffin cups with paper liners.
Cream butter and sugar until smooth. Add vanilla. Add eggs, one at a time, mixing until well blended.
In a separate bowl, mix together the flour, baking soda, baking powder, cream of tartar, and nutmeg. Set aside.
Alternately add the flour mixture and sour cream, starting and ending with the flour.
Using an ice cream scoop, scoop out muffin batter one at a time and drop into a shallow bowl filled with the cinnamon sugar mixture. Roll the muffin around in the mixture until it is covered completely in cinnamon sugar. Place muffin into muffin tin.
(From Peabody's directions)
Bake at 350F for 20-22 minutes, or until golden brown.