These are from
The Magnolia Bakery Cookbook
, by Jennifer Appel (sp?), and let me tell you - they are divine. I've made them on multiple occasions, and every single time, people want more. And more. Sometimes I think they want me to turn into a Cupcake-Makin'-Machine. It's nice to know that people like what I make. That warm fuzzy feeling inside always makes for a good day. :)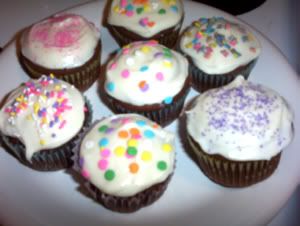 (do pardon the quality of the picture; it was the original digital camera that i had used)
Ingredients:
2 cups all-purpose flour
1 tsp baking soda
1 cup (2 sticks) unsalted butter, softened
1 cup granulated sugar
1 cup firmly-packed light brown sugar
4 large eggs, room temp
6 oz unsweetened chocolate, melted
1 cup buttermilk
1 tsp vanilla extract
Directions:
Preheat oven to 350F. Line 24 muffin cups with paper liners.
In a small bowl, sift together flour and baking soda. Set aside.
In a large bowl, on medium speed of your mixer, cream butter until smooth. Add sugars and beat until fluffy, about 3 minutes. Add eggs, one at a time, beating well after each addition. Add chocolate, mixing until well incorporated.
Add dry ingredients in 3 parts, alternating with the buttermilk and vanilla. With each addition, beat until ingredients are incorporated but do not overbeat. Using a rubber spatula, scrape down the batter inthe bowl to make sure ingredients are well blended and the batter is smooth. Carefully spoon the batter into the cupcake liners, filling them about 3/4 fulls.
Bake at 350F for 20-25 minutes until the tester toothpick inserted in the center comes out clean. Cool in the tins for 15 minutes before removing them from the tins and cool completely on cooling racks before frosting.
Vanilla Cream Cheese Frosting
(makes MORE than enough for 2 dozen cupcakes)
Ingredients:
8 oz cream cheese, softened and cut into small pieces
3 tbsp unsalted butter, soften and cut into small pieces
3/4 tsp vanilla extract
2 cups sifted confectioners' sugar
Directions:
In a large bowl, on medium speed of electric mixer, beat cream cheese and butter until smooth, about 3 minutes. Add vanilla and beat well. Gradually add the sugar, 1 cup at a time, beating continously until creamy and smooth. Cover and refrigerate icing for 2-3 hours, but no longer, to thicken before using.