Yes, you did read that write. Good ol' peanut butter and I are getting along for the time being. I had a sample of a cookie at Whole Foods last week, and I've been wanting a peanut butter cookie ever since. So when I found this recipe over at
Cookie Madness
, and, seeing the quantity it made, I knew it was meant to be.
It's no secret that cookies aren't my favorite things to make. But when they make a limited quantity, I'm more likely to want to make them. Only because then they won't be Sitting Temptation. (Hey, I may not have made a resolution to LOSE weight, but that still doesn't mean I can dive into a plate of baked goods with reckless abandon!) So the fact that this only made nine cookies made me a happy girl.
The outer edges are crisp, while the centers are soft and moist. I'm very pleased. Oh, and my first words upon seeing them (because they do spread)? "Holy biscuit!" (Because Johanna and I are trying not to swear as much and biscuit has become my go-to word... ie: "son of a biscuit!") :D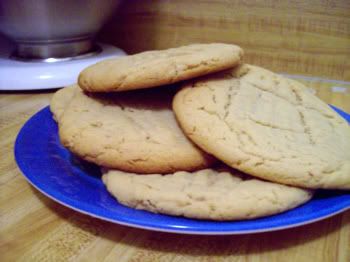 Ingredients:
1¼ cups all-purpose flour
½ tsp. baking powder
½ tsp. baking soda
½ tsp. salt
½ cup firmly packed brown sugar
½ cup sugar
½ cup butter, softened
½ cup peanut butter
1 tsp. vanilla extract
1 large egg
Directions:
Whisk together flour, baking powder, baking soda and salt; set aside.
In mixing bowl, beat sugars and butter until creamy. Add peanut butter, vanilla, and egg, beating well. Gradually add flour mixture to peanut butter mixture.
Chill the dough in the fridge for about an hour.
Preheat oven to 375F. Line cookie sheet with parchment paper.
Scoop up dough using a ¼-sized cup and shape into a ball. Press down slightly and place on cookie sheet, leaving about 4 inches in between (because they do spread!).
Bake at 375F for 13-16 minutes. Remove from cookie sheet and cool completely on wire rack.
Makes 9 or 10 cookies. :)