Last weekend, while using up my gift card at Sur La Table (thank you, Sandy!), I came across a bottle of grenadine, and picked it up, thinking I could find a recipe to use it in. Yeah, it's easier sounding than what it really is.
I emailed Stef from the
Cupcake Project
to see if she had any experience with it or any ideas. She thought of Shirley Temple cupcakes, to which there seems to be no known recipe for! LOL
Today wasn't one of my good baking days. In fact, if I didn't say that I'd make these and promise Amelia that I'd bring some into work on Sunday, I probably would've given up, because it was that wracking on the nerves. I don't want to think about how much butter and flour was wasted today. After much crying, math-ing, yelling, and throwing things, I finally decided on the basic golden cupcake recipe from 'Vegan Cupcakes Take Over the World', adding lemon and lime zest. That came out very good. Naked or with frosting. Good deal.
The frosting. I planned on doing a cream cheese frosting with the grenadine in it. Yeah. I started out slow, just adding a tablespoon of grenadine at a time. That made no difference in taste. I finally just started pouring it straight from the bottle in attempt to get a consistant flavor. But in my... whatever-mood I was in, I failed to add more confectioners' sugar, just figuring that the frosting would firm up while in the fridge. Yeah, it didn't.
But a few were acceptable for photographing this time, at least. :) Would I make them again? The cupcakes, most definitely. I'm not sure on the frosting, without doing some serious changes.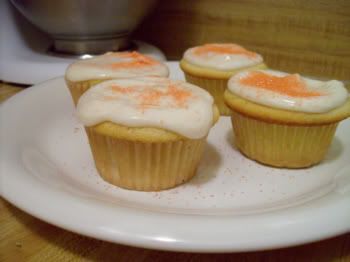 Lemon-Lime Cupcakes:
(adapted from
Vegan Cupcakes Take Over the World
)
Ingredients:
1 cup milk
1 tsp. apple cider vinegar
2 Tbsp. cornstarch
3/4 tsp. baking powder
½ tsp. baking soda
¼ tsp. salt
½ cup butter, softened
3/4 cup sugar
2 tsp. vanilla
½ Tbsp. lemon zest
½ Tbsp. lime zest
Directions:
Preheat oven to 350F. Line 12 muffin cups with paper liners.
Whisk together milk and apple cider vinegar; set aside to curdle.
Sift together flour, cornstarch, baking powder, baking soda, and salt; set aside.
Cream butter and sugar until smooth. Add vanilla. Add lemon and lime zests. Alternately add flour mixture and milk mixture, starting and ending with the flour. Fill muffin cups two-thirds of the way full.
Bake at 350F for 20 minutes, or until toothpick inserted near center comes out clean. Let cool in pan for about ten minutes, before removing to wire rack to cool completely.
Grendadine Frosting:
8 oz. cream cheese, softened
2 Tbsp. butter, softened
1 Tbsp. milk
1 Tbsp. grenadine (adjust to taste)
2-3 cups confectioners' sugar
Beat cream cheese and butter until smooth. Add milk. Add grenadine. Gradually add in confectioners' sugar. Let sit in fridge for about an hour to firm up before using.
PS: Check out
Stef's rendition
over at
Cupcake Project
. Thanks for being such a good sport! :D